Water. It's not something we think much about here in Colorado.
When hurricanes ravage coastal communities, or large storms dump record-breaking amounts of water in a community in short periods of time, we may be grateful for our dry climate. Even river damage isn't a big deal for most homeowners across the Front Range.
But that doesn't make homes immune from potential damage from a flood.
Many homeowners have walked into their homes and found several inches of standing water. If a pipe freezes and breaks, the water can quickly build. If a dishwasher breaks, water will flood everywhere. Even a simple bucket of water that leaks over time can do extensive damage.
While certain types of flooring fare better than others to water, hardwood can be impacted quickly. If you have hopes of saving your hardwood, speed is key.
What you do in the first twenty-four hours is critical. The longer water stands on hardwood surfaces, the worse the damage will be.
It's more than water removal. It's also about proper drying. Only if the hardwood remains intact can you sand them down and refinish them. How do you approach water removal? How do you save hardwood flooring after a flood?
What happens to hardwood as it absorbs water?
Your hardwood floors can get wet from a variety of situations. A leaky toilet. The dog carrying in rain and snow from outdoors. A broken water heater. An overflowing bathtub. A high water table that forces water into your crawl space or basement.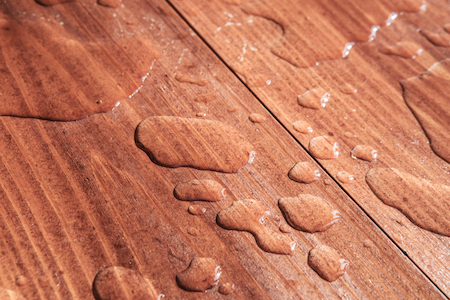 Wood naturally absorbs water. Think of how your trees work outside in your landscaping. A tree soaks up water to live and thrive. It carries that quality even after it's processed because of its natural fibers and material. When wood gets wet, it soaks in the moisture and starts to expand. With too much water, it eventually starts to warp or cup as it presses up against other planks in the floor.
While your hardwood floor planks come finished, and will take time to absorb the water, depending on how your flooring was installed determines how quickly the water filters through the cracks between the planks. And as it soaks down, it starts impacting other parts of your flooring. The sub-floor. Even deep down into the base of your home's structure. Water can easily move along joints and connections, snaking over large areas rapidly. What started as a small leak can quickly escalate and impact large areas of your home.
The quicker you remove the problem, the more likely you are to save your flooring. It's not just the wood, it can be potential mold and mildew problems too. Mold can start forming in as little as 48 hours. And once it takes hold, it can grow steadily throughout the structure of your home.
Just a quick note about insurance
Whether or not your insurance will cover your damage depends on the type of insurance plan you have. Overall, less than 20 percent of homeowners have flood coverage. Especially here in Colorado, it's not something most homeowners consider. That means if water enters from outside, your insurance probably won't cover the damage.
If, however, the water damage came from within – a frozen pipe or a broken water heater – there is a good chance you have coverage. Be sure to speak with your insurance agent before you proceed with work.
Steps to take for removing water and repairing the damage caused by the flood
Step 1: Stop the problem at the source
Before you start assessing, it's important to find the root cause of the problem. If the flood is coming from inside your home, find the shutoff valve and stop the water from flowing. Each major appliance should have its own shutoff valve. Or you can find the water main valve and turn off the water that feeds into your home.
Step 2: Remove all wet items
Clutter and personal assets should all be removed from the area. This includes furniture, plants, stacks of books, area rugs, and anything else that could hold moisture close to your hardwood floors. If the items are wet and you hope to save them, move them to a dryer section of your home. Be sure to put down a waterproof barrier, so you don't add additional problems to other rooms in your home.
If you have carpets or large area rugs on top of the hardwood, remove that quickly. The fibers will absorb water and tend to get musty and moldy first. If you have tack strips in place holding it down, remove those as well. They can be very sharp and hurt you or others as they work in the area. Plus, they can also be impacted by the water and rust, adding more problems to the situation.
Step 3: Suck up the water
Remove standing water as quickly as possible. If the flood impacted a large portion of a room or your home, it might benefit you to hire a mitigation company. They understand more about looking for problems that settle in deep into your home. They will be well versed in extracting water and ensuring your home is returned to original condition, remaining a safe place for your family to live.
For smaller areas, you might be able to do it with a wet vacuum. Be sure to get all traces of water, spending extra time at baseboards, cracks, and even along plank lines. Wet vacuums can continue to work even after it appears you've removed the moisture. You may also have to remove baseboards if the water has soaked beyond the dimensions of your room.
Step 4: Clean and disinfect
Once all water has been removed, you'll need to clean the area thoroughly. It's equally important to ensure mold doesn't form.
Step 5: Dry out the space
Place a dehumidifier in the center of the room. This is where professional mitigation companies might benefit you, especially with larger floods. These powerful pieces of equipment should run for 2 to 3 days or even longer to ensure the moisture is gone from your home. Also install large fans to increase circulation and ventilation, and dry out moisture to stop further impact.
Step 6: Check for signs of damage
Only when everything is dry should you check for visible signs of damage. Remember that problems can occur underneath the structure too. If you have any doubts, it's better to check with an expert before you move forward with refinishing. Mold and other damage can fester for weeks – months – before turning into a visible problem.
What other questions do you have concerning your hardwood flooring?