If you've entered a flooring store recently, you might have been overwhelmed with the possibilities. There are aisles for hardwood, tile, and carpet. You'll find rows of sheet vinyl, vinyl tiles, and luxury vinyl.
How will you ever decide?
Things get more confusing as you dig deeper into select materials. You might understand what vinyl flooring is, but what about engineered vinyl flooring? How is it different from luxury vinyl? And which would be better for your home?
Luckily, we have answers. As experts in all things flooring, we can guide you to what will make a great choice for your home. And help answer all the questions you have about the different flooring choices.
What is engineered luxury flooring?
Engineered vinyl flooring is crafted from synthetic material that is designed to mimic the appearance of natural materials like wood or stone. It is composed of several layers:
Wear layer – a protective layer that covers the top of each plank. This topcoat or wear layer helps prevent scratches and scuffs, and reduces damage from daily traffic. It varies in thickness, with price centering around how thick this wear layer is.
Print layer – this is created from a printed image that resembles hardwood or stone. Manufacturers use a number of techniques to create a realistic flooring appearance.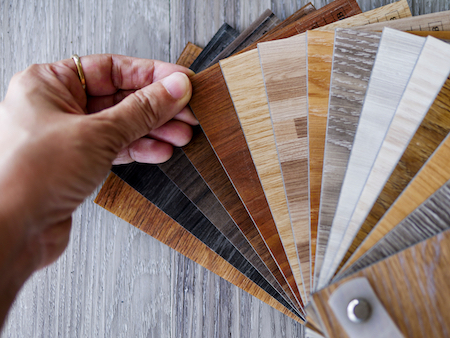 Core layer – the most significant difference between engineered vinyl and luxury vinyl is the core. All engineered vinyl planks have a rigid core, which means they aren't as flexible as luxury vinyl. This rigidness can help hide imperfections in the subfloor, creating a stronger base to last over time.
Backing layer – this separates the core from the subfloor. It's usually a thin layer of rubber or cord pre-attached to complete the product. What it's made from can impact how it's installed and how it reacts to daily living over time.
How is engineered vinyl flooring different from luxury vinyl planks?
The terms "engineered vinyl flooring" and "luxury vinyl planks" are often used interchangeably, but there are some subtle differences between the two.
Engineered vinyl flooring is a broader category that includes various types of vinyl flooring, including luxury vinyl planks. It refers to flooring composed of multiple layers, typically including a wear layer, a printed design layer, and a waterproof core layer. Engineered vinyl flooring can come in planks, tiles, or sheets, offering a wider range of options for homeowners.
Luxury vinyl planks (LVP) specifically refer to the type of vinyl flooring that comes in plank form, resembling hardwood flooring. Luxury vinyl planks are designed to mimic the natural appearance of wood, with realistic wood grain patterns and textures. They are available in various widths, lengths, and finishes, allowing homeowners to achieve the desired look of hardwood flooring without the associated maintenance and costs.
Why people choose engineered vinyl flooring
If you're leaning towards engineered vinyl flooring, dig deeper into its benefits to ensure it's the right product for you.
Appearance
Engineered vinyl flooring offers a wide variety of design options, ranging from realistic wood grain patterns to stunning stone textures. Whether you prefer a rustic, traditional, or contemporary look, you can find an engineered vinyl flooring design that suits your style and complements your home's aesthetic.
Durability
One of the major benefits of engineered vinyl flooring is its exceptional durability. The wear layer protects the flooring from scratches, stains, and daily wear and tear, making it an ideal choice for high-traffic areas in your home. It can withstand the demands of a busy household and still maintain its appearance over time.
Waterproof
Engineered vinyl flooring is highly resistant to water damage, thanks to its waterproof core layer. This feature makes it an excellent flooring option for moisture-prone areas, such as kitchens, bathrooms, and basements. Unlike natural materials like hardwood or laminate, engineered vinyl flooring will not warp, swell, or buckle when exposed to water. While it doesn't mean it can survive a flood of standing water, it does a great job of standing up to all of life's messes that come your way.
Low maintenance
Keeping your floors clean and well-maintained is a breeze with engineered vinyl flooring. It is easy to clean and requires minimal maintenance. Regular sweeping or vacuuming, along with occasional damp mopping, is usually sufficient to keep it looking fresh and vibrant.
Easy to install
Engineered vinyl flooring is designed to be DIY-friendly, making it an attractive option for homeowners who enjoy taking on home improvement projects. Many engineered vinyl flooring products feature innovative installation systems that allow for simple, hassle-free installation. You can save time and money by installing it yourself, without needing professional assistance.
Comfortable
Unlike some hard flooring options, engineered vinyl flooring provides a comfortable underfoot feel. Its cushioned layers absorb impact and reduce noise, making it a comfortable choice for areas where you spend a lot of time standing, such as kitchens or laundry rooms.
Sound resistant
Engineered vinyl flooring has excellent sound absorption properties. It helps to reduce noise transmission, making it a desirable option for multi-story homes or rooms where soundproofing is important.
Engineered vinyl flooring does have a few downsides
While engineered vinyl flooring offers numerous advantages, it's essential to consider its downsides as well. Here are a few potential drawbacks to keep in mind.
May discolor in direct sunlight
Prolonged exposure to direct sunlight can cause some engineered vinyl flooring to fade or discolor over time. If you have large windows or your flooring will be exposed to significant sunlight, it's worth considering window treatments or opting for flooring options that are more resistant to UV rays.
Its DIY nature may be difficult in complex flooring layouts 
While engineered vinyl flooring is generally easy to install, complex flooring layouts or rooms with intricate shapes may present a challenge. Cutting and fitting the planks or tiles precisely can be tricky in such cases. It's advisable to seek professional help if you have a complex flooring layout to ensure a seamless installation.
Hard to fix damaged planks or tiles
In the event that a plank or tile gets damaged, repairing engineered vinyl flooring can be challenging. Unlike some other flooring options, where individual pieces can be easily replaced, engineered vinyl flooring usually requires replacing the entire section or area. It's worth considering having some spare planks or tiles on hand in case of any future repairs.
Is engineered vinyl flooring the right choice for you? 
Engineered vinyl flooring offers a wide range of benefits, making it a popular choice for homeowners. Are you ready to explore what engineered vinyl flooring can do for your home?
Stop by today and discover a world of options with engineered vinyl flooring. We'll help you make the right choice for your home.
And fall in love with the results.