Basements can be a challenge for installing new flooring. You want the latest trends. You want something modern and stylish. But it's the basement; you know not every flooring will work well.
Style isn't everything. You care about the product too. Is it safe? Is it considered a green product? Is there such a thing as eco-friendly flooring that works well in the basement?
If you've done any kind of research on eco-friendly flooring products, it's easy to get overwhelmed. Carpet's always an option, and you can easily find natural fibers the fit well into the green category. But if you've done any research on the adhesives used to hold carpet in place, you know they can be anything but eco-friendly.
And then there are laminates. They give you the look you're craving, many tout to be made exclusively from recycled materials. But if you dig a little further, you'll find articles that state laminate is high in off-gassing, which isn't something you choose to bring into your home.
What are you to do?
Let's talk about the structure of your basement floor
Before you start considering different flooring materials, it's important to understand the structure of your basement.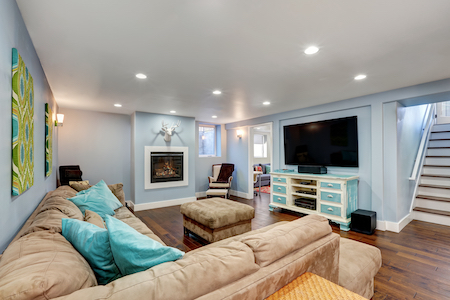 Living here in Colorado means your basement undergoes a variety of conditions. It can be cold and dry in the winter, followed by moisture issues in the summer as we move into warm air and lots of water seeping into the ground around you. The ground is almost like a sponge, taking in everything from outside conditions. If you live in an older home, the foundation wasn't poured and installed up to today's requirements, so it might not do a great job of preventing moisture from seeping through.
Before you consider which flooring material is right for you, ensure you have the foundation to install the flooring first. Work with a contractor to ensure the floor is level, clean, dry, and humidity levels remain relatively constant no matter what the weather is like outside.
What flooring do you currently have down?
Many homes here in the Denver Metro area have concrete basements. That means you'll be using concrete as your base.
One current trend is to use a concrete floor as your flooring choice. It's an eco-friendly option, and is a natural flooring surface that wears well over time.
This isn't the concrete you currently see in parts of your basement. It's not natural, untreated concrete in dull, drab gray. You can find concrete tiles that come in beautiful colors and stains. Or use a color treatment on the concrete you already have in place. Just be sure to watch the chemicals and stains you select to ensure they're eco-friendly too.
Yet concrete isn't for everybody. It may be a current trend, but is it something you truly want?
There are other options.
Ceramic tile
Ceramic tile is made mostly from clay and sediment. They are fired into all sorts of shapes and sizes, and come in a rainbow of colors and patterns. If you can dream it, you can find it with ceramic tile.
Clay is soft before being fired. Manufacturers add a variety of products into the process to ensure they can stand the pressures of daily use. Look specifically for flooring tiles that handle well in basement conditions. They should be waterproof and stand up well in moist and humid conditions. Many use ceramic tile in bathroom designs, which is a testament to how well they can do under intense moisture situations.
Natural stone
Love the look of tile, but want something even more natural? How about natural stone.
Natural stone refers to a variety of different materials, including:
Granite
Marble
Limestone
Travertine
Slate
Sandstone
Because they're quarried, they are some of the most eco-friendly materials you can install into your home. Just be sure you pay attention to how they are manufactured. Many natural stone tiles start out porous and absorbent, making them risky for installing in a basement. If you use a stone sealer and install a water barrier layer underneath the stone, they can be good additions to a home.
Floating floors
Instead of talking about a specific material, let's talk about installation. Floating floors are unique in how they are installed because they aren't permanently attached to the subfloor. Instead, they click together and hold in place. This makes it easy enough for a do-it-yourselfer to install.
Not all floating floors are suitable for all a basement can dish out. But there are many options for you, depending on what you're looking for. Options include:
Carpet tiles
Cork flooring
Bamboo flooring
Laminate
Engineered hardwood
Sheet vinyl
Luxury vinyl tiles and planks
Likewise, not every floating floor can be considered eco-friendly. If this sounds like a good option for you, it's important to do your research. Many flooring manufacturers understand homeowners want the best of both worlds, and offer an array of products to suit their needs. Clearly define your goals and wishes, and come in prepared to see a variety of options. Then you can choose what works best for you.
The good news is with many of these floating floor options, they can be waterproof or highly water-resistant. The key is ensuring the product is properly sealed. Pay attention to manufacturer's claims and what their warranties state.
How do you know if a product really is eco-friendly?
With so many labels and promises on products these days, it can be difficult to know what to believe. Does the word "natural" mean anything? What about green label? Or even the term "eco-friendly?" Is it all true?
Unfortunately not. Manufacturers know consumers shop with certain words in mind. They use them freely, even if there isn't backup to support it. And because laws don't exist for all processes involved in labeling things with these misleading words, it's up to the consumer to determine what's best for their needs.
The UL, a global safety science leader creating principles surrounding company compliance for quality and sustainability, has come up with an entertaining article entitled Sins of Greenwashing, which points out directly what's happening within the industry.
If you truly want an eco-friendly flooring option for your basement, the best place to start is by coming into our showroom.
We can help you find exactly what you're looking for. Whether you're in the market to do it yourself, or want us to handle the job from beginning to end, we're here to help you find the perfect flooring to suit your needs.