As a homeowner, we expect a lot of things from our homes. We want it to have personality. We want it to be durable and comfortable, giving us space to be who we are. We want it to ensure safety and help keep us healthy.
Is all of that possible?
Of course. We're just starting to learn how to make wiser choices in every room. We're bringing home cleaner food from the grocery store. We're selecting better cleaning products. And when it comes time to redecorate, we're looking for wiser choices there too.
Yes, we want hardwood flooring. We're not compromising on our desire for the most popular flooring. But there are ways to ensure we select eco-conscious hardwood flooring options that create the home environment we desire.
Are you thinking about installing a hardwood floor in your home and want to be eco-conscious? You're not alone!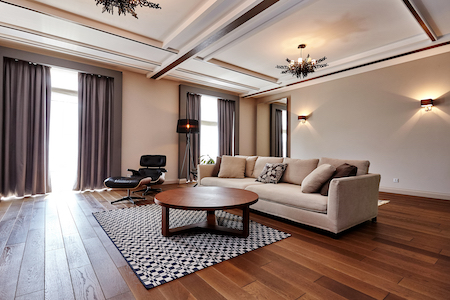 Many homeowners are looking for ways to reduce their environmental impact while still enjoying the beauty and durability of hardwood flooring. Where do you begin? We have a few ideas for you.
What makes a floor eco-conscious?
An eco-conscious floor is one that has been produced and installed with minimal environmental impact. Attention is given to every stage to keep it as sustainable and eco-friendly as possible.
When it comes to the production and installation of hardwood flooring, there are a number of things to look for:
Is it sustainably sourced? Look for sustainably harvested wood. This means the wood is sourced from responsibly managed forests where trees are replanted to ensure long-term sustainability.
Is it created with low emissions? Opt for flooring that has low levels of volatile organic compounds (VOCs), which are harmful chemicals emitted from some flooring materials. Low VOC emissions contribute to better indoor air quality and a healthier living environment.
Is it durable? Choose a floor that is built to last. Durable flooring materials require fewer replacements over time, reducing waste and the need for additional resources.
How solid hardwood floor can be eco-conscious
Solid hardwood flooring can be eco-conscious when certain criteria are met:
Reclaimed or salvaged wood – Consider using solid hardwood flooring made from recycled or salvaged wood. This reduces the demand for new trees and gives new life to old materials.
FSC-certified products -The Forest Stewardship Council (FSC) certifies wood products that meet strict environmental and social standards. Look for FSC-certified solid hardwood flooring to ensure it comes from responsibly managed forests.
Finishes and adhesives – Pay attention to the finishes and adhesives used in the manufacturing and installation of solid hardwood floors. Choose products that are low in VOCs and environmentally friendly.
How engineered hardwood floors can be eco-conscious
Engineered hardwood floors can also be a sustainable choice. Instead of using solid planks, engineered wood consists of several layers, with plywood forming the core, with a top layer of hardwood veneer. This allows more scrap material to be used, which lowers the amount of waste. Other considerations include:
Responsible sourcing – Look for engineered hardwood floors made from sustainably sourced wood. Ensure that the wood layers or veneers used in the flooring come from responsibly managed forests.
High-quality core materials – Opt for engineered hardwood flooring with high-quality core materials, such as plywood made from fast-growing and renewable species. Avoid floors with cores that contain formaldehyde or other harmful substances.
Longevity and recyclability – Choose engineered hardwood floors that are designed to last and can be easily recycled at the end of their lifespan. This helps reduce waste and minimizes the environmental impact.
Choosing a flooring manufacturer that values sustainability
Think flooring is just flooring? Think again. Manufacturers approach product creation in different ways.
When you focus on price alone, you're more likely to find manufacturers with less-than-stellar track records on sustainability. They rarely approach business in an eco-conscious way.
So what do you look for when trying to find a flooring manufacturer that prioritizes sustainability?
Environmental policies – Research the manufacturer's environmental policies and commitment to sustainability. Look for certifications or memberships in environmental organizations that demonstrate their dedication to eco-conscious practices.
Supply chain transparency – Choose a manufacturer that is transparent about their supply chain, ensuring that their wood is sourced ethically and responsibly.
Energy-efficient production – Look for manufacturers that employ energy-efficient manufacturing processes and strive to reduce their carbon footprint. A transparent company will gladly talk about its processes. If it appears they are hiding something, they probably are.
Recycling and waste management – Assess whether the manufacturer has effective recycling and waste management programs in place to minimize their environmental impact.
A little help – looking to environmental groups for guidance
Does it seem that eco-conscious hardwood flooring companies really care about the entire process beginning to end? That's because they do. And they work hard to show it in different ways.
Environmental groups such as Cradle to Cradle Products Innovation Institute, GREENGUARD, and the Forest Stewardship Council offer certification programs for products that meet strict environmental standards. They evaluate every step of the manufacturing process to ensure they meet the rigorous standards.
The Cradle to Cradle Certified Products Program evaluates products based on sustainability across multiple categories, including material health, material reuse, renewable energy use, water stewardship, and social fairness.
GREENGUARD is an independent organization that certifies products for low chemical emissions. Their certification program helps identify flooring options that contribute to healthier indoor air quality and minimizes the presence of harmful pollutants.
These are just two of the many programs available to help manufacturers work hard at creating eco-conscious products homeowners love. You can help by ensuring the flooring you install comes with one or more certifications. It will clean up your own living environment while assisting top-notch companies continue doing their part for a brighter future.
Are you rethinking your approach to installing hardwood in your home?
Do you have an eco-conscious approach to remodeling?
When purchasing a hardwood floor, be conscious of how it was produced, the materials used in its production, and its end-of-life prospects. Sustainably sourced hardwood floors, as well as those with low-VOC adhesives, are good options for homeowners looking for an eco-friendly choice.
If you're ready to find the perfect eco-conscious hardwood flooring option, stop by today. We have many products that will create an environment you're excited to live in for years to come.
Happy flooring!