The dining room is one of those places that might not get a lot of use, but when you do use it, you want it to look spectacular.
It's a place where you greet guests and share a meal. The last thing you want to worry about is a spill.
Or maybe thanks to staying closer to home, you're using your dining room more than ever before. Why not make every meal spectacular … without the worry, of course.
Whether your dining room is a once-in-a-while place, or you use it all day, every day – hello, home office – we have a few flooring design options to make it your favorite room in your house.
Every room begins with great flooring. If you get the flooring wrong, you'll avoid the room for lack of functionality and personality. But if you get it right? Let's start there.
Upgrade to hardwood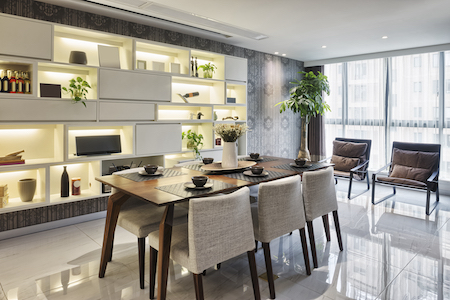 If you look through our site, you'll notice a lot of our content is based around the idea of adding hardwood flooring to your home. There are reasons for that.
First, Coloradans love hardwood. All you have to do is head into any commercial space, restaurants, or resorts and you'll notice this trend. Maybe it's the Rocky Mountains right in our backyard that has us yearning for a great mountain lodge.
Second, people pay more money for a house with hardwood floors. When you walk inside a house that greets you with hardwood, you can't help but think "ah, clean."
Third, it gives you more functionality. Dining rooms are meant to share food and be with friends, not worry about the stain on your carpet. Hardwood gives you the option for easier maintenance while giving you classic good looks.
If you're reading this to confirm hardwood as your choice of flooring for the dining room, you won't get any argument from us. It's what people want; and we meet people every day selecting new flooring for their home.
Maybe laminate is more your style
Of course, there are just as many people that love the idea of hardwood, yet are skeptical about maintenance. Hardwood can be a little more difficult to care for. And if moisture is a problem, you will have trouble with hardwood.
That makes many homeowners go looking for a better option. Maybe laminate is better suited for your needs.
Laminate is a stain-resistant, water-resistant, low maintenance option for people that want the look of hardwood with less worry. Laminate gives you the look of hardwood with a strong core of hard plastic. The top layer is real wood – for some homeowners, that's important. But included in the layers is a hard plastic that makes it more durable than real wood options.
Because it's not solid wood, it's also more budget-friendly. It's also easy to install, a perfect choice if you're looking for a DIY option.
Don't ignore luxury vinyl flooring
If you've looked for even a short time in the new flooring market, you can't miss one of the latest players in the "hardwood" game, and that's luxury vinyl. Technology has made it possible for luxury vinyl planks (LVP) to take on the look and feel of real wood, but with all the benefits of vinyl.
It's waterproof. If you drop a glass of water and don't clean it up immediately, no worries. It won't harm your flooring. That's because LVP is made from several layers of vinyl, giving it unparalleled strength and durability.
And thanks to technology, the print layer – the one that gives it its classic good looks – it's more real than ever before. It's so real that even experts have to give it a second look to determine if it's hardwood or LVT.
If your dining room has turned into an office space, a school, a workout room, as well as a place to eat, luxury vinyl might be the perfect choice for your remodel. Plus you'll be amazed at all the different looks, textures, and styles that are offered. You can truly find any look you're craving for your home.
When in doubt, go with tile
If you want to stretch beyond traditional, maybe it's time to give tile a second look. Tile isn't just for bathrooms and kitchens anymore.
Today's homes often apply open concept to new levels. Are your kitchen, dining room, and outdoor living space all blended into one? Rather than blending multiple flooring options and trying to make it look good, why not select tile and create a better flow?
What we love about tile is the unlimited possibilities in creativity and looks. If you still want a wood look, only with tile functionality, tile has you covered. Today's technology has created a tile that compares with both wood and stone looks. It gives you a traditional look with modern flexibility. And you can continue the look well beyond the door.
We also see homeowners laying tile over radiant heating. That means your feet are never cold, even on the coldest day of the year.
Tile is also easy to maintain, and virtually indestructible. Of course, that depends on the type of tile you select, and ensuring it's properly installed. We can help with all of that.
Carpets and rugs
We know everyone has a different design style, and personality dictates what you choose to install in each room in your home.
If you love hardwood, but want to marry it with carpet, how about a new rug to place underneath the table? We have a complete selection of rugs that can suit any style, and need.
If you love carpet, we can show you a broadloom or Berber carpet that handles very well in busy rooms. It's especially great for multipurpose rooms, where action is the name of the game all day long.
What's your style?
What's the perfect flooring for your dining room?
If you have questions, we can help you narrow down your selections, and make the right choice for your home.