The kitchen and living space are places in the home where we spend the most time. It's no wonder we look for ways to improve it and make it better.
For many homeowners, that involves turning to the great outdoors. It means pushing the boundaries of what we consider to be livable space beyond the walls and into nature.
Of course, some things you can include both indoors and out. Open up the windows to create a larger space. Add a fireplace, a cooktop, and a big screen TV. We've found lots of ways to be able to spend more time outdoors.
But if you don't get your flooring right, you'll have more work than enjoyment. Maybe that's why more people turn to ceramic and porcelain tile than any other flooring type.
What is ceramic tile?
Ceramic tile is made from a coarse clay with a small ratio of kaolin clay. It's fired at lower temperatures than its porcelain counterpart, at no more than 1,650 degrees. It's softer than porcelain, has good water resistance, and comes in an almost unlimited supply of colors and patterns. Their popularity makes them a mainstay in homes worldwide, being more frequently used in bathrooms. With proper installation and sealing, you'll find them on floors, shower stalls, even countertops.
What is porcelain tile?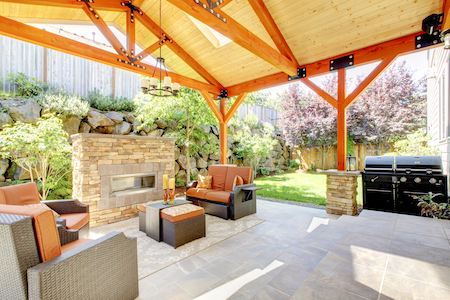 Porcelain tile has an increased water absorption rate over ceramic. It uses a special kaolin clay that is finer and purer than ceramic clay. It has additional additives such as quartz and feldspar for added strength. Porcelain tiles are fired at higher temperatures, usually from 2,200 to 2,500 degrees. This provides a denser, smoother tile that stands up better than ceramic. It's also what makes it a perfect addition to homes inside and out.
What's better, ceramic or porcelain?
After reading the descriptions above, it may seem like porcelain tile is your better choice. But the bottom line is: it depends.
When building out outdoor living spaces, the focus is always on design. How will your room be covered from the elements? How much protection will it have from the weather?
Installation is a big deal. This isn't something you'll want to take on yourself without expert knowledge. Especially here in Colorado, where we can get extreme temperature variations. It comes down to creating the proper substructure, paying attention to the type of tile, and giving equal thought to grout and sealant as you lay your tiles into place.
Still, tiles work well for all of your design work: countertops, bars, fireplaces, and flooring.
Are porcelain tiles good in freezing conditions?
Even though Colorado's weather patterns seem to be changing, we generally have a few frigid days each year. Your outdoor living space is only beneficial if it can hold well in all conditions.
Porcelain tile is an excellent product for use in outdoor applications because:
It has a low water absorption rate, making them stain and weather-resistant. They absorb almost no water, and won't crack in freezing conditions.
They are extremely resistant to fading, meaning they'll keep looking great even in Colorado's blazing sunlight.
They are manufactured to withstand high traffic situations. They are one of the most durable flooring materials around.
When you're designing outdoor living space in such a changing environment, it's important to go with a high-quality tile, one that will stand up to all Colorado's environment can dish out. Porcelain tile often meets that requirement because of its:
Durability – it's far superior in extreme and high traffic situations
Versatility – they can be used indoors and out, and are manufactured to weather all kinds of conditions
Flexibility – they are far easier to use and install than more difficult building materials like concrete
Maintenance – because of their composition, they are low maintenance and easy to keep clean
Strength – they stand the test of time against moisture, stains, and even fire resistance
Kitchen and living room tiles – it's more than what you expected
The kitchen and living space are the areas of the home with the most action. You prepare dinners there. You hang out with friends and family. You throw parties and create memories there.
That's why many homeowners debate about creating the right ambiance.
People love hardwood, and it works well in so many situations. But if you're looking for seamless flow-through from indoor to outdoor living, you'll naturally migrate to tile.
Thanks to an extraordinarily large range of tile options, you'll find your desired look quickly. And what works well as flooring might compliment what you decide to include on your outdoor fireplace or kitchen.
Not every setting needs to have the same tile. However, complimenting and flow-through are required. This starts by selecting no more than three distinct types of tile, and ensuring they are in the same color range, creating an aesthetically pleasing look.
And the reason so many homeowners are turning to tile is because of the looks you can create.
Marble
Stone
Quartz
Hardwood
Onyx
Concrete
Metal-look
Slate
If you have a desire, you'll find it in ceramic or porcelain tile. It's created to mimic some of the popular and well-loved flooring materials ever used. Yet because it's tile, it has the benefit of being durable and easy to care for.
Other things to consider
Tile also guarantees a healthier air supply. That's because tile is made with non-toxic materials, and does not emit volatile organic compounds (VOCs). It's hypoallergenic, hygienic, and are easy to clean. All of those messes you make from creating memories? They'll be easy to clean.
Furthermore, tile is one of the best materials to lay over radiant heat. Tile is often overlooked here in Colorado as a primary living space flooring choice because it can be cold underfoot.
No more.
With radiant heating, your flooring will be toasty warm on the coldest days of the year. Tile is an excellent heat conductor, which means you'll create a warmer living space while enjoying energy savings too.
Is ceramic or porcelain tile in your future?
If you're expanding your kitchen and living space from indoors outside, take a look at ceramic and porcelain tile to create a sophisticated look.
https://pro-flooring.com/using-the-perfect-tile-for-every-room-in-your-home/
There's nothing more beautiful and functional as tile for flooring, fireplaces, kitchen layouts, and even pool space.
How can we help you find your ideal look?