Shopping for new carpet can be exciting. You've decided to remodel your home. You're adding new furniture, a new color for the walls, maybe new window coverings too.
Yet from the moment you step into a flooring showroom, instead of excitement, you might fall into a state of overwhelm. Where do you begin?
Glancing around, you'll find patterns, colors, styles, and textures galore. If you have a specific color in mind, you'll find it.
What about fibers? Are you looking for synthetic or natural?
And let's not forget the carpet padding. In order to create a solid structure, and ensure your carpet has a long life, it's necessary to select the right carpet padding for your needs.
What? You haven't thought much about carpet padding?
Why carpet padding is important
When you walk across a brand new carpet, it feels good on your feet. It's soft, plush fibers cushion your toes. Its warmth surrounds you.
Did you know a lot of that feeling doesn't come from the carpet, but comes from the carpet padding instead? Carpet padding serves as a foundation for your carpeting. Whether you select a carpet from the lower end, or from the top of the line, ultimately, it's the carpet padding's job to create a better surface structure. It adds insulation as well as noise reduction. Without it, your carpet will fail faster.
Carpet padding is important because it protects the backing from the bottom of your carpet from breaking down. It prolongs the life of your carpet.
However, if you select the wrong carpet padding, it can actually cause more problems. That's why it's essential to understand carpet padding before you shop.
What type of carpet padding should I use?
Manufacturers don't just create carpet, they are in the carpet padding business too. They understand that to ensure a long life for the carpets they produce, it's equally important to install them over the right structure.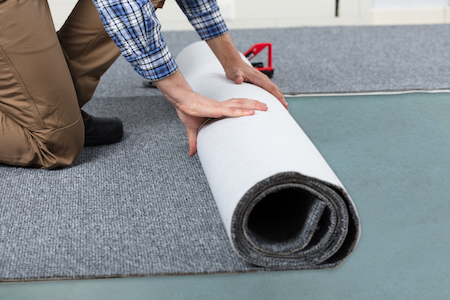 While there are basic carpet padding categories on the market, keep in mind that manufacturers are always innovating. They know consumers want fresh ideas, greener solutions, and updated materials. Don't be afraid to chat with a sales associate about what's most important to you, and select based on your needs and desires. Today's carpet padding includes:
Rebond
This is one of the most popular carpet pads used in residential settings. Rebond carpet padding is the least expensive option, made from recycled foam. It often has a multicolored appearance with specs of color throughout. Always opt for a higher density when using rebond carpet; you'll have better results. Of course, you should also pay attention to manufacturer's guidelines. They often make suggestions as to which carpet padding works best for the carpet you're installing.
Frothed foam
Foam is often used in a lot of products, and when it comes to carpet padding, it can make a great choice. Frothed foam is denser than other foam options, and is one of the most durable pads on the market. It's also one of the most expensive carpet pads, and will often outlast the carpet itself. If quality is your thing, look no further than frothed foam.
Memory foam
It works for mattresses, why not for carpet padding too? Memory foam works similarly to frothed foam, but adds memory gel into the structure. That structure gives it that sinking feeling you may have experienced on your bedding. And while it works great for bedrooms and other low traffic areas, it's not as suitable for high traffic areas. The gel will eventually condense down.
Prime foam
When you sit down on a couch or chair, many of them are created using a foam cushion. These foam cushions are reasonably firm, making them a good option for carpet padding in certain rooms of your home. Prime foam falls between frothed foam and memory foam in both durability and cost. It can be a right choice for low to medium traffic areas, just don't install it in your hallways.
Waffle pad
A waffle pad is actually one of the oldest carpet padding options on the market. It's recognizable by its waffle-like structure. It's soft and priced at the lower end, making it a good choice for budget-minded customers. If you select this type of carpet padding, pay attention to density, and ensure it's created from a high quality material.
Fiber pad
Fiber pads can be created from a wide variety of materials. If going green is your thing, ask about a jute fiber pad. Jute can be ideal for some areas of your home; just don't use it in high moisture areas like your basement. Because of its structure and low clearance, it's often recommended for Berber carpets, which can extend durability.
Rubber
Rubber is often a good choice if you are looking for resilience. It's incredibly dense, heavy, and durable, and often works well for consumers worried about carpets increasing allergy and asthma symptoms. It's also one of the more expensive options, so it's something to weigh out carefully.
How do I choose carpet underlay?
Selecting a material is your first step. Once you've discussed and determined which carpet padding suits your needs, you'll be given additional choices in each category. Carpet padding protects the carpet, so it's always better to move to a higher quality when given a choice. Carpet padding should be chosen based on:
Density – is measured between 2 and 10 pounds. However, you can't compare across categories, as fiber would be different than rubber, for example. Residential class carpet padding often suggests purchasing somewhere between 6 and 8 pounds for optimal use.
Thickness – thicker isn't always better. It depends on the carpet you select. A low pile carpet, for instance, shouldn't be installed with a thicker padding, as it will decrease wearability and shorten life span. A ½ inch carpet pad is often considered ample, with most associates suggesting you never go beyond a ⅜ inch pad.
What questions do you have about carpet padding? 
Carpet padding can be confusing, especially when your goal is to make your room brighter, cleaner, fresher in design. Still, carpet is expensive. It's not something you'll change out each year. To ensure a long life for your carpet, pay attention to carpet padding. We're happy to speak with you about your options, and make the best suggestion to suit your needs.