When you start dreaming about your forever house, chances are you have some distinct thoughts that come to mind.
A gourmet kitchen? It's a must.
A spa in the master bath? That's on the wishlist too.
Maybe you've picked out the perfect colors – natural earth tones on the walls and floors mean you can use any color decor you choose.
Oh, and about the floors. You have thoughts about that too. Hardwood everywhere …
Hardwood is a popular choice here in Colorado. But if you've ever put your toes on a cold floor, you might be rethinking hardwood everywhere.
That's where carpet comes back into play.
Carpeting is an excellent choice for many rooms in your home. In fact, the carpet and rug market is continuing to expand, expected to reach $138.44 billion in the next five years.
If you are thinking of installing carpet in your home, there are two distinct types of caret: synthetic or natural.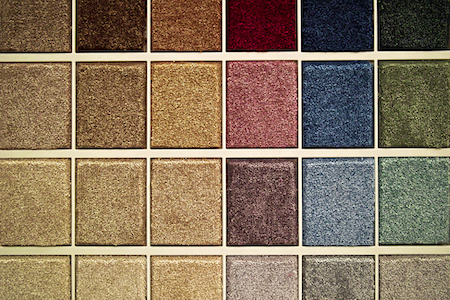 Synthetic includes nylon, olefin, and polyester. Natural carpet fibers include wool.
Which is better for your home? Let's look at each of their characteristics.
Synthetic carpet
When a carpet is crafted from synthetic fibers, it's created from materials not found in nature. They are human-made from different chemical compounds, bound together to create a carpet that stands up in all kinds of situations. Many areas, including commercial applications, prefer these materials because they handle well in all sorts of situations.
Let's look at the three broad categories of synthetic carpet available on the market today.
Nylon
Chances are if you've installed a synthetic carpet in your home, there's a good chance it falls into the nylon carpet category. That's because nylon is synonymous with durability. Nylon carpet is sold under a variety of different brand names. For example, Stainmaster shot to the top of the charts in the mid-1980s. Even today, Stainmaster carpets are known for their lifetime limited warranty protection against common things homeowners face daily, including food and beverage stains, pet stains, soiling, and static shock.
That makes nylon a great choice for every room in your home, but especially the well-used, high-traffic areas where you spend time as a family. It also resists moisture and dries out quickly, so it is a good choice if you're refinishing basement living space.
Olefin
Olefin is also known as polypropylene. It is a synthetic carpet fiber frequently used for outdoor rugs or area carpet where moisture or mold might be a problem. It shines in moisture-prone areas, but it won't perform as well under high-traffic pressure. That makes it a better choice for basements, where it receives little traffic.
Olefin is one of the most inexpensive carpet options on the market. But because it's also one of the least durable, you should expect to replace it more often. One of the notable downsides of this material is its low melting point. That's one of the reasons you should consider other options if fire risk is elevated in any way.
Polyester
Polyester carpet fibers are listed on the marketplace in a variety of ways. You might see it as PET, or PTT, which is short for Polytrimethylene Terephthalate. While polyester carpet cannot match the durability of nylon, it does hold color well. If you want a carpet rich in color, or with fade-resistance qualities, polyester may be just what you're looking for.
For some homeowners, the reason they move to natural carpet options is to create a more sustainable living space. If you are trying to increase green living, you might consider polyester carpet too. Polyester fibers often come from recycled plastic bottles, do a little research if this is important to you. While natural fibers occur in nature, polyester fibers are factory-made. But because they can be created from recycled materials, it can be a win-win if you want green living space.
Natural carpet
Natural carpet consists of materials you'll find growing in nature. Materials are selected for strength and durability before being processed into fibers. While natural carpet is in the minority for carpet on the marketplace today, they still have a place in the carpet world, depending on your needs and tastes.
While there are several commonly used natural fibers for carpets and rugs, wool is by far the most common, and is almost exclusively used for broadloom, or wall-to-wall carpet. Other natural fibers, such as sisal, cotton, and jute, are too weak for broadloom fibers. Instead, they are used for area rugs, to complement your surrounding area.
Synthetic vs natural carpet, what's the difference?
After learning the differences between synthetic vs natural carpet fibers, are you still trying to make up your mind as to which is better for the rooms in your home? Synthetic and natural each have their own characteristics that make them appealing. Which are important to you?
Eco-friendliness
If decreasing your carbon footprint and creating a more sustainable living environment is important to you, you might be leaning towards natural fibers. In general, natural fibers are more environmentally friendly. That gives an edge towards natural fibers, wool carpets might be your choice.
Because of how synthetic carpets are made, they can release volatile organic compounds (VOCs). Natural fibers will not release VOCs, however, if they are attached to a synthetic backing, it is still possible for them to have VOCs. In all cases, check with the manufacturer to determine what your final carpet choice is created from.
Stain-resistance 
Synthetic fibers are naturally more stain-resistant. Because they are designed exclusively to thwart off potential stain-setting problems, the protective coating can be a great addition in busy households. Although wool has a natural protective barrier, once a stain penetrates that barrier, it can be almost impossible to remove the stain. For all that and more, it's hard to beat the stain-resistance synthetic fibers offer.
Durability
This is the one area that is difficult to call a winner. Both synthetic and natural carpets are extremely durable and resilient to high-traffic situations. This is where it pays to understand your needs and speak with one of our sales representatives about your desires. We can help you make the right choice for your situation.
What's the right choice for you, synthetic or natural carpet?