Want to add style, color, and comfort to your home? Look no further than carpet. It brightens up any room. It softens hard spaces. It takes away the chill on a cold winter morning. What could be better than all that?
Homeowners have many reasons they select carpet for various rooms throughout their homes. Yet deciding to install carpet is the easy part; the difficult part comes with the selection process. Where do you begin when so many choices are presented to you? Styles, patterns, materials, thickness, color – the decisions seem to go on and on. Wouldn't it be better if you had a guide to buying the right carpet before you stepped onto a showroom floor, something that would help you understand what to buy even before you started looking?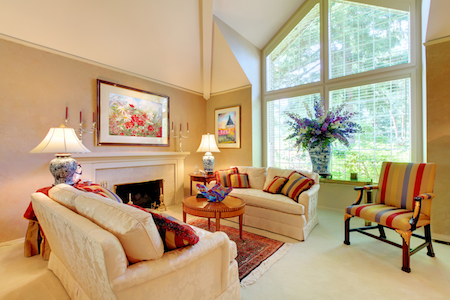 The good thing is we have that guide. When you're ready to buy the right carpet, we have the perfect solution for you.
What terms you should know before you shop
Buying new carpet isn't something you'll do a lot of in your life. Carpet manufactured today is designed to last 5 to 15 years, depending on the quality, the padding used, and how well the carpet is maintained. It's easy to get confused by the terminology, especially as new concepts enter the marketplace.
Backing – the material used to back the carpet and reinforce stability.
Density – this refers to how close the fibers are woven together into the backing. You'll find this detailed as ounces per cubic yard. The higher the density, the more durable the carpet will ultimately be.
Fiber – fiber is one of the most important factors for durability. It's the material used to create the yarn.
Pile – pile refers to the length of the yarn and the way it's attached to the backing. You'll have loop pile or cut pile to select from.
Twist – with a cut pile, the twist comes from how many times the fiber is twisted together on themselves. Higher twist counts, in general, mean better performance.
Weight – face weight refers to how much fiber is used, whereas total weight refers to the backing and the yarn.
Of course, there are many more terms that refer specifically to type, style, and various manufacturing processes. When you have a question, just ask.
Evaluating your room use
When you shop, the first question a flooring consultant will ask you is what room you're looking to add carpet to. Why? Because that shapes the direction they'll suggest for what type of carpet handles best.
Not all carpet is designed for every room in your home. You wouldn't install delicate carpet in a high-traffic office space. Nor would you install commercial grade carpet in a baby's room. The more questions a consultant asks, the more they'll learn about what carpet will work best for you.
What room will the carpet be installed in?
How much traffic will flow through that room?
Do you expect a lot of entertaining in that room?
How large is your family? Ages?
Is their direct access from the outside?
The consultant isn't being nosy; they are attempting to ensure you get a product that's perfect for your needs and desires. By getting a detailed picture of how you'll be living once the carpet is installed, they'll have a better idea of choices to steer you to so you'll be happy with your final selection.
Pile types
Pile refers to the style of carpet – how it's woven and constructed. While every carpet starts as a loop pile, some loops are trimmed and become cut pile.
Berber – this is a loop pile with small tufts that stands up well under pressure
Frieze – tightly twisted fibers that give exceptional durability
Patterned – a combination of loop and cut pile used to create different looks
Plush – closely packed yarn gives carpet a smooth look and feel
Saxony – less dense than plush, but the fibers are treated with a heat process to make them stand up straight
Shag – long, loosely spaced fibers that present an informal look
Textured plush – patterned plush where yarn in varying colors and heights are used to create a textured look
Fiber types
Two things have the greatest impact on how well a carpet will handle throughout its life: pile and fiber. You'll find carpet is made from two different categories of materials: natural or synthetic. Both have their advantages and disadvantages, so it's important to weigh your options carefully.
Acrylic – a synthetic material that has many of the properties of wool. It's durable and helps hide dirt, cleans well, and resists mildew.
Nylon – one of the most common carpet materials, nylon is durable and stain-resistant. Not all carpet is created equal, so it's important to do your due diligence.
Olefin – the least expensive material, it's synthetic and made to change out on a regular basis. You'll often find this used in rentals so it can be changed out with frequency.
Polyester – dyes well, which makes this synthetic material popular when creating vibrant, fade-resistant colors.
Wool – a natural, hypoallergenic material that is very durable. It repels oils and stains, and is warm and comfortable underfoot.
Quality and Durability 
For most homeowners, quality and durability go hand in hand. Yes, you want to install carpet that will give you the longest life possible. Yes, you want it to look good for years. What should you know about today's technology that will really make a difference?
Stainmaster – if you're in the market for carpet, you've probably heard that phrase. It's one of the most popular technologies that give carpet a long life. But what you might not know is there's more to the technology than just avoiding stains.
Stainmaster also has:
6,6 Nylon Technology – a patented fiber technology that helps carpets avoid crushing, color fading, and abrasive wear.
TEFLON Protection – this is a superior soil resistance technology that separates dirt from fibers easier, and allows it to be vacuumed away.
Anti-Static Technology – if you've ever felt tiny zaps as you walk across carpet, you know it can be a shocking experience. Having anti-static protection does more to keep your expensive electronics save as you walk across your carpet and touch your devices.
Don't assume carpets have protection. Ask. All carpets that feature Stainmaster technology should be clearly marked. Your flooring consultant should be able to direct you to the best manufacturers that not only offer the best technological advances in the industry, but also have superior warranties to back up their promises.