High traffic areas in homes and businesses have special needs.
Have you ever walked into a lobby or entryway where the flooring is scratched, dented, and unappealing? It sets the stage for the experience. You enter warily. You question what you'll find as you continue to walk further. Is it clean? Is it well kept?
Is it a place you truly want to be?
If your flooring is old and outdated, your floor may simply be showing its age through wear and tear.
But if you replaced your flooring not that long ago, you might be questioning what went wrong?
It may be you picked the wrong floors for the area. Some flooring choices handle better than others. If you want longevity, selecting the right materials will make all the difference. If you want your floors to look good for years to come, be sure you choose the right flooring specifically for high traffic areas.
High traffic areas need durability and easy maintenance. Selecting water-resistant or waterproof flooring for entryways, kitchens, and other moisture-prone areas is also a plus.
But there are many things to consider before you make your final decision. This article is designed to give you the top flooring choices that will handle well no matter what type of traffic you can dish out. It's the best way to ensure your flooring stands up to all the traffic that comes through your doors.
Defining what to look for in a high traffic floor
A lot of people start shopping based on looks without thinking about how well the floors will handle after they are installed. That's putting the cart before the horse.
If you have a high traffic space, consider selecting flooring specifically built to handle the traffic. Focus on:
Durability – high traffic areas take more abuse because of the amount of action they receive. Pets running and sliding across it. Kids playing and dropping heavy objects. Moisture as you walk across it with wet and sloppy shoes. All of that adds up to scratches, dents, and other problem marks.
Maintenance – high traffic areas get dirty faster, which means you'll be cleaning them on a more regular basis. Can the flooring look good with just a simple swipe of a mop? Or does it take more action?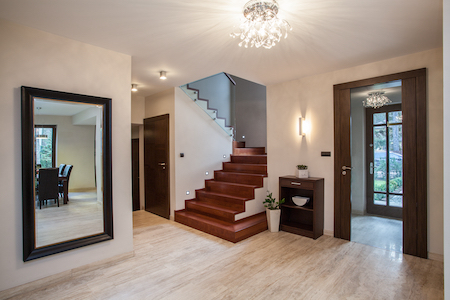 Water-resistance – high traffic areas are almost always adjacent to entrances. That means dragging in every element that happens on the other side of the door. If flooring isn't water-resistant – or waterproof – damage can quickly start to show.
Warmth – here in Colorado, warmth is always a factor. If you select the wrong flooring, it may handle okay, but you'll always notice a chill in the air.
Aesthetics – many people start with style. While it's important, be sure to combine it with functionality to truly enjoy the space you create.
Cost – what's more important, budget or aesthetics? For different people, the choice may encourage one choice of flooring over the other. Just remember that if you select the wrong material for high traffic areas, you'll be replacing it more frequently than other choices. That can add up to a lot more financing over time.
What type of flooring should you consider? 
As you keep all of those characteristics in mind, it's time to shop. We've been helping homeowners select the right flooring for their needs for years. If you are worried about the final product you install in your high traffic areas, we suggest you look at the following:
Tile
Tile is one of the oldest and most effective flooring choices you can install inside your home. That's because of its durability. Tile creates a hard surface area that is scratch resistant, and best of all waterproof, as long as you install it correctly. That's why you'll find this in entryways and surface areas in some of the busiest places in the world. Tile truly stands the test of time.
If you take care of tile, it will be around for decades looking brand new. It's easy to clean, easy to maintain, and when you spill something on it, it's easy to wipe away. Tile won't develop mold or mildew, though you will have to give the grout in between a little TLC to keep it looking and functioning well. But this too is easy to clean with a mild detergent and water. And when you need a deep clean, a steam cleaner will do the job quickly.
Tile is also eco-friendly. Tile isn't made with harmful chemicals, and it won't leak VOCs once they are installed inside your home. Just pay attention to the grout and adhesive you use for complete installation to ensure they remain safe once inside your home.
Luxury Vinyl
A lot of changes have happened in the luxury vinyl market these past few years. If you're looking for new flooring, you won't be able to ignore luxury vinyl. Luxury vinyl comes in planks and tiles designed to mimic the most popular flooring choices on the market today. If you're looking for a versatile flooring that is durable, affordable, easy to install, easy to clean and maintain, and is comfortable underfoot, look no further than luxury vinyl.
Plus, it's waterproof. Pay attention to the manufacturer you select, and you'll find a high quality product that is resilient in all sorts of conditions. If you, your family, or your clients drag in ice, snow, and mud on a regular basis, you'll love how easily luxury vinyl cleans up.
You can find luxury vinyl mimicking your favorite flooring. Want traditional hardwood, a whitewash design, or even reclaimed wood? You'll find it with luxury vinyl. Want stone, marble, or granite, without the fuss of actually installing it? Luxury vinyl can help you create those aesthetics too.
Laminate
People love hardwood. If you can't get hardwood out of your mind, yet you know you'll regret your decision the moment it's installed, give laminate another look. While it's not recommended for areas where extreme moisture may be an issue, it does very well in high traffic areas that will take a lot of abuse. Plus, it looks good while being durable, affordable, and comfortable underfoot.
Laminate has a reputation for being ugly and noisy. Not so anymore. With today's technology, it can take on the appearance of any wood you choose to install. Just be aware of where your laminate was made, as some cheaper manufacturers may have used chemicals and VOCs in the process. That's why it pays to go with a reputable flooring dealer to ensure you get the highest quality flooring products.
Laminate is durable, affordable,  and will handle well under all kinds of pressure. Laminate is not the best choice in moisture situations. Laminate may buckle and warp when subjected to too much water over time. But if you want the look of natural wood in an area with lots of foot traffic or even where your pets will romp and play, laminate may be your flooring of choice.
What's your choice? What flooring will you install in your high traffic area?