Sometimes clean, minimalist lines can be appealing in your home design. You love tile. Grout lines? Not so much. Wouldn't it be great if you could get the benefits of tile in one continual flooring material?
You can with large-format porcelain tile.
Once limited to commercial spaces, large-format porcelain tile is now entering the residential scene, and homeowners love the minimalist looks it's creating.
To be considered large-format, porcelain tile will have one edge longer than 15 inches. Because of technology, sizes continue to change. You'll easily find the popular size of 12×24 inches. Continue looking, and you'll find 32×32", 35×35", even 5 feet by 10 feet, or larger.
Why use large-format porcelain tile in your home
When you look across your living space, what does your dream decor look like? Combining functionality with aesthetics can be especially challenging for homeowners that want classic good looks.
You won't find large-format tiles in every home in your neighborhood. And for some, that's part of the appeal. But what makes it appealing can also leave you a little confused. Will your choice look great when it's finally installed? We recommend using large format porcelain tile to:
Make small rooms look bigger – in small spaces, lots of grout lines can overwhelm the space. By installing large-format tiles instead, you can clean up the design, reduce the grout lines as your focal point, and leave the space feeling clean and fresh. Lighten your color choice, and you'll brighten the room even further.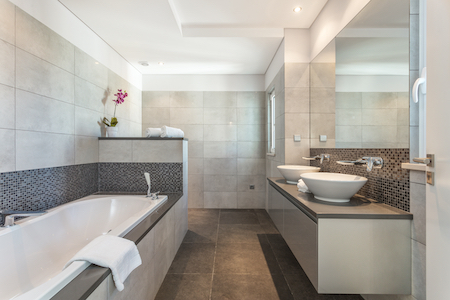 Create uniformity – no matter what flooring you choose to install in a large space, seams can always cause problems. That's why professionals work so hard to hide them. Not only can they cause your flooring to wear faster, but it can take away the room's aesthetics. Large-format tiles create an open concept that carries across the living space. Instead of using grout color as a separator, choose one that closely resembles the color of the tile. This will help create the illusion of a continuous tile from one side of the room to the other.
Less grout, more tile – grout is often one of the biggest reasons homeowners aren't crazy about tile. The different colors and textures create a distinct visual impression, one that some homeowners don't like. You can minimize that with larger tiles. By choosing the same tone, it can blend in better, and create a more minimalistic look.
Endless versatility and possibilities – every homeowner has a different idea of what a perfect home looks like. We love the fact that technology has made many more options available. If you want clean lines in your living space, if you are looking for something you won't find in every home in your neighborhood, large-format tile may be just what you're looking for. We can help you imagine it in your home – just stop by.
More reasons to use large-format tiles
Still not sure if large-format porcelain tiles are suitable for you? Read on. We help homeowners every day select the right flooring to suit their needs. If you love tile, and want something a bit different from your neighbor's large-format may be the perfect choice for you.
They create a sense of spaciousness – in the design world, professionals understand that color changes the mood and impact of a space. If you want the impression of a larger space, lighter colors can do the trick. Busyness also impacts the looks. Take away grout lines, create a more uniform surface area, and you increase the visualization of more space.
It's not just for flooring – once you start looking at what you can do with large-format porcelain tile, you'll be amazed at the uses. Start by applying it to your kitchen, bathrooms, and living space. Continue it to countertops, work tables, and wall space. Porcelain has water-resistant characteristics that make it highly usable in various rooms throughout your home. It allows the clean lines to carry through from floor to bottom.
Cuts down the installation process – small floor tile can be beautiful when done right. But the more intricate the pattern, the longer it will take to install it. And that adds up in both labor costs as well as installation time. Large-format tiles can be installed in a fraction of the time, meaning you'll be enjoying your space sooner.
Large-format tiles are on trend – for some people, trends matter. If you switch your decor enough that you're always looking for the latest and greatest looks, you can't go wrong with large-format tiles. They can be combined with many other looks to create a space you'll love coming home to.
They are more hygienic – fewer grout lines mean these surface areas will be easier to clean. Dirt won't accumulate in the seams, and will be easier to wipe away with a broom or a damp mop. That also means it's easier to wipe away other contaminants, like bacteria and spills.
They work well with radiant heating – many homeowners are turning to radiant heating to keep the heat source close to the feet, making you feel warmer all winter long. You'll love the effect with large-format tiles.
Are large-format porcelain tiles for you?
Using large-format porcelain tiles for your residential or commercial space can transform your interior space into a clean look. These oversized tiles can be the perfect addition to any space, creating the aesthetics you've been dreaming of. What's more, they come in many shapes and sizes, and even more materials, styles, and looks. Want natural stone? Concrete? Or maybe something elegant like marble? You'll find an array of choices when you stop by our retail location and see what's in stock and waiting for you to install.
Large-format porcelain tiles may be just what you're looking for for your next project.