Taking on a new renovation project in your home? It can be costly, time consuming, and sometimes confusing too. Add in a little stress and emotions, and it can lead to fights with a spouse, making the project even more difficult to endure.
Even the simplest of tasks can be tedious when you add in stress. And when the project impacts your living arrangement for years to come, it can be difficult at best. Add in the fact that a significant amount of money may be going into this project, and it's the perfect storm for potential marital disaster.
One of the biggest problems we find begins with the planning process. Often, one person has done more research or has more expectations than the other. And when they aren't on the same page from the beginning, that's the start of when things can go wrong.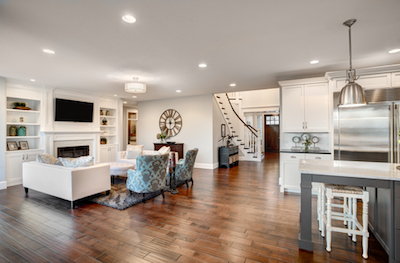 Blaming is never the solution. Planning can help you both get on the same page. Here's where to start.
Start with your funding
No matter how well you plan for a home improvement project, chances are budgets are tested in the process. Changing your home from carpets to hardwoods? Is the subfloor in prime shape? Ripping up vinyl to install laminate? Are your floorboards and baseboards in good shape?
The two of you should come to an agreement on how much to put into your new flooring project long before you start looking at options. This will help you stay on track with your needs and desires, and give the contractor helping you a better idea of where you can splurge or need to hold back.
Communication is key
Many spouses don't take the time to talk about their concerns before they start looking. If one partner has an idea and the other chooses something different, the fighting can start before the project begins.
In some cases, the little things can be the biggest holdback. You may both be on the same page as far as styling – hardwood is mandatory for both of you. But instead, you find yourself differing on color. With today's resources, there are many ways to see all of your options before you make your final selection. Talk to your neighbors and get opinions on functionality and durability. Who will be cleaning the floors? That might easily sway the advantage one way or another.
Compromise
Just like many situations, be willing to give. There are many different types of flooring choices available – many may even surprise you.
Instead of coming in with exact ideas in mind, be open and willing to look at your options. With the new materials available, you may just find an option that you'd never thought of considering.
Decide what your most important characteristics are – durability, long-lasting, and color may be key. Then let one of our associates show you your options.
You may be surprised at what you decide.