Nothing says "Colorado" quite like hardwood floors. You'll find them everywhere. 
It's no wonder they continually top the list of flooring choices across the Front Range. It's also no surprise they are one of the most requested materials when people start searching to buy a new home. 
Maybe you've decided that this is the year to add hardwood flooring to your home. But what is the hardwood flooring installation process really like? Read enough websites, and you might be a bit nervous about having them installed. After all, it can be quite a mess – especially if you approach it the wrong way.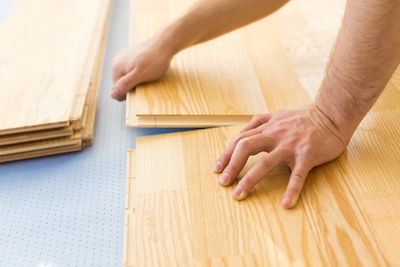 Hardwood floors won't be quickly installed and ready to walk on in hours like other flooring types. You can't roll hardwood floors into place like carpet. Or float and click them together like laminate. It takes a little more work, but the finishing touches are well worth the wait. 
What should you expect?
Where will I install my new hardwood flooring?
Hardwood can bring warmth and coziness to any room in your home. But that doesn't mean it's right for every room in your home. 
You'll often find hardwood flooring throughout the main level living quarters. Think living room, family room, home office, or dining room. These are perfect spaces to add warmth and style, and bring out your own unique personality by selecting a hardwood of your choice. 
Hardwoods are also often extended upstairs and into bedrooms and shared space. We love the look of a grand entrance, with wood steps and risers that extend up to the second floor. Of course, you can add even more personality by adding a runner to make the steps a little softer underfoot. That only adds more charm. 
Depending on your family and your lifestyle, some also choose hardwood flooring installation into the kitchen area. Just be conscious of your decision, and be quick to the draw with spills. Hardwood and moisture don't mix. You'll need a more detailed maintenance plan. Consider adding a protective finish that increases water resistance. 
Hardwood should only be installed above grade. That means if you're finishing your basement, opt for different flooring material. Hardwood doesn't work well in damp environments. 
What type of hardwood flooring materials will I use?
The fun part comes in selecting what hardwood material to use. You have so many choices!
First, start with the look. You'll find hardwood flooring comes in strips, planks, and parquet. It may be finished or unfinished. That means your floors will either be ready to go once it's laid into place, or be ready for your contractor to stain and seal it after it's installed. Be prepared for the time it takes for all work, from beginning to end. 
If you select unfinished, the final results depend on your selection and personality. The flooring will need several coats of stain to bring out the wood's character, followed by a protective coating that helps it stand up to all your family can dish out. 
The best hardwood floors are made from wood species that are readily available, sustainable, and are hard enough to stand up to daily use. Oak is one of the most popular floors, but look at other species such as cherry and maple too. One of the newest hardwoods is bamboo – it isn't actually wood, but is grass instead. Yet it looks, feels, and performs much like hardwood. Want to go exotic? Consider teak, jarrah, or mesquite. Just be sure you learn a little about the manufacturer to ensure they use a sustainable harvest forest for their products. 
What hardwood flooring installation method do I prefer?
Hardwood flooring can be installed in a variety of ways, depending on your subfloor and the material you select. 
Nail down is popular for installing solid wood strips or planks, attaching them directly to the subfloor. 
Staple down is similar to nailing, except it uses a pneumatic staple gun instead of nails. 
Glue down is usually used on parquet flooring or if you select engineered wood. 
Floating is also a popular form of installation for plank wood, especially engineered, and is installed over a layer of padding to help with noise reduction too. 
When do I have plenty of time for installation?
This is usually the biggest complaint associated with the hardwood flooring installation process. If you want a good looking floor made of hardwood, it's going to take a little time. 
It takes time to ensure your subfloor is prepared and ready for the hardwood of your choice. 
It takes time to acclimate the hardwood to your home. 
It takes time to lay the individual boards into place. 
It takes time to stain and seal your hardwood floors. 
It takes time for the floor to dry and seal. 
If you want your hardwood floors ready for a specific event or reason, be sure to leave enough time for this entire process to take place. 
Is my subfloor and base surface in great shape?
Hardwood flooring is hard – it doesn't have the give of carpeting or vinyl, and it won't conform to the subfloor below. If your subfloor isn't flat, your hardwood is immediately at risk. 
Above all, the subfloor should be a dry material before the installation begins. It can be a raised plywood subfloor, with is the traditional material, but we've also used a cured, moisture-proof concrete subfloor for both glue down and floating installation. 
Just be aware that installing hardwood flooring can raise your flooring level up a bit. That means it might not be even with other flooring materials in adjacent rooms, causing you to rethink your transition material from room to room. 
Is the hardwood properly prepared for installation?
Wood is a natural product; it isn't man-made. That means it reacts to the area in which it is installed, and needs to adjust to the moisture content and the humidity levels of your space.
The best seasons for installation are spring and fall. That's when the degree of humidity is at the lowest, and you're not using your furnace and air conditioner on a regular basis. Of course, you can install other times; just allow plenty of time for the acclimation process inside your home. 
To ready the hardwood for installation, have the materials delivered and stored in your home before work begins. Open the package and let the wood sit inside your home for up to a week or more, to give them a chance to acclimate to your home's conditions. 
It's also a good idea to ensure your indoor humidity levels are between 45 and 65 percent. This not only gives you a comfortable air supply to breathe, but your floors will thank you too. 
Is this the year you select hardwood flooring installation for your home?