Thinking of installing a new floor in your home?
The fun part may be deciding what flooring to install. Hardwood or tile? Carpet or laminate?
And once you decide on the type, the colors, styles, and patterns can leave you breathless.
Who knew so much was available? How will you ever decide?
Eventually, you whittle down your selections and make a final decision.
But your options aren't over yet.
Will you do-it-yourself? Will you hire a contractor?
Who will you trust to install one of the most important building materials in your home? If you get this part wrong, you'll have a flooring that simply doesn't work with your lifestyle. Hardwood may warp or cup. Tile may come loose. Carpet may buckle, creating waves across your floor.
Selecting the right flooring for your needs is only a part of your decision process. An equally important decision should come with hiring the right flooring contractor, one that will ensure the work is done correctly and will give you floors you can live with for years to come.
Where do you start to find the right flooring contractors to suit your needs?
Make sure the flooring contractor is licensed and insured
Anyone can install flooring. Not everyone can install flooring correctly. There is a difference, and yet homeowners often forget that when finalizing their decisions.
And we get it. It's easy to break the budget upgrading to the material you've fallen in love with, then look for ways to cut corners on things you can't see – like installation. Yet installation is one of the most important parts of the entire project. Get it wrong and you'll pay for it from the start.
When you hire a contractor who is licensed and insured, you have guarantees if something goes wrong with the installation. It also protects you in the case of a contractor that doesn't finish the job or damages the property in the process.
Get at least three quotes – don't fall for the "good deals"
It's easy to get excited and fall in love with a material you've been dreaming about for years. If you've looked online, you might even notice a "really good deal" and have a strong urge to jump at it. They even offer installation at a "low cost." What could be better than that?
That's how many homeowners fall for scams and pay the price dearly in the long run.
Companies don't stay in business by offering unbelievable deals. They look for easy ways to pull people in, and charge exorbitant fees on the backend when you're frustrated, panicked, and a little overwhelmed. What choice do you have at that point?
When you see things in writing, you can start to ask questions. And when you ask for at least three quotes, you can start comparing. This gives you a chance to thoroughly understand all the pieces that go into installing your new floors, and make an informed decision in the process.
Ask questions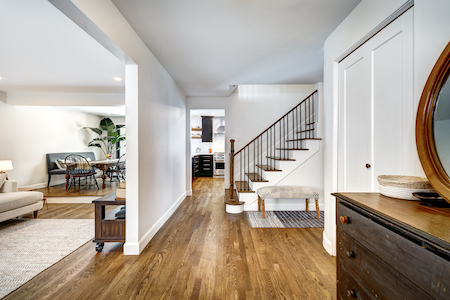 Speaking of asking questions, we can't recommend this enough. Before you start the process, create a list of questions that apply directly to your project. Keep adding to it. Then bring it with you when you start looking for flooring.
A reputable flooring contractor will answer all of your questions with care. They want you to be happy with the final results, and will take the time to ensure you're happy with your purchase.
A less-than-reputable flooring contractor will get agitated quickly, try and spin the answers into something you can't understand, and will try and press you for the sale, cutting you off in the process to do so.
Need a few ideas for great questions to ask? Start with these:
How much work is involved in this project, beginning to end?
How long will it take?
What problems may occur along the way?
How can I best be prepared on the day of installation?
What are your recommendations for the best flooring?
How should I maintain my flooring choice?
What problems could arise during this process?
Now think of a few questions based on the type of flooring you're considering, and the rooms where you'll be installing the product you choose.
Do a little sleuthing online
This is the age of the internet, after all. If a flooring contractor is in business for the long term, they know enough to pay attention to creating a viable internet presence that helps them reach out to potential customers.
They care about the presence they are creating online.
When you search, you'll find a bunch of information in a variety of places. They may have a website, a Facebook page, and an Instagram account. They may have reviews on Google and Angie's.
But when you're looking, don't make rash decisions based on one bad review. Get a feel for what the contractor brings to the table. After all, we all have bad days. We all have bad experiences, where our needs just don't mesh with the person we're doing business with. One bad review never sets the stage. It's the overall feeling you get by doing your research well.
If a company has been in business for a while, you'll easily piece together a picture of who they are. Couple that with the feeling you get by talking with them, and you'll quickly be able to finalize your decision.
Experience, experience, experience
There is something to the phrase: Jack of all trades, master of none. Installing click and lock laminate, or rolling out carpet in the bedroom may seem like an easy task. What about creating patterns with tile, or installing exotic hardwood flooring?
There's a right way, and a way that will leave you vulnerable to living with problem flooring for a very long time.
If you know exactly the type of flooring you want installed, ensure the flooring contractor understands the little nuances of installing that type of floor. Do they have the appropriate tools? Have they worked with different manufacturers of this type of product?
In some cases, manufacturers may even require you to go with an experienced contractor to ensure the flooring is correctly installed. That keeps your warranty valid.
Installing new flooring?
Finding the right contractor doesn't have to be difficult. Follow these simple rules, and you'll fall in love with the results. And live happily ever after with a flooring that meets all of your needs.