Have you ever lived in an apartment? Then you know there's a fine line between cozy and cramped. Sometimes the perfect space for you isn't big – it's small. And you want it to look its best, not like it's an afterthought.
Selecting flooring for small spaces presents a number of challenges. How do you choose design elements without creating clutter? How do you ensure your flooring compliments the look you are going for without requiring more maintenance on your part?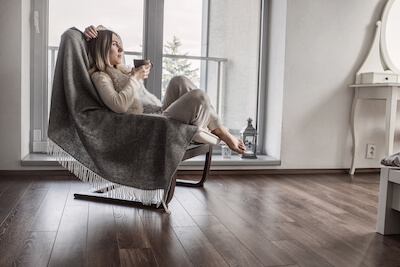 Start With Color
Color is everything. There's a common misconception that dark floors shouldn't be used in small spaces. Not true. Instead, dark colors tend to make a room feel smaller, so it's important to factor this in when selecting the decor for the rest of the room.
If you want dark hardwood floors, for example, offset them with lighter, cooler tones on your walls and in your furniture. The contrast will be both visually striking and prevent a room from feeling claustrophobic.
If you use lighter shades, select similar shades for your walls. This eliminates the "horizon line" that creates the illusion of expansive space.
Less Is More
Another big challenge with small spaces is to avoid sensory overload. The fuller a room is, the busier it becomes. Keep it simple, especially with darker, bolder colors.
This is where simple hardwoods come into play. By selecting bold and exotic hardwoods, the patterns may appear too busy for small spaces. Wider planks mean fewer seams, which have less going on visually. You should also be conscious of drawing interest to the floor as you move from room to room. Nothing says busy more than having your flooring change from space to space.
Consult With A Professional
While it's easy to find the perfect look in an ad or on Pinterest, recreating that look in your home offers distinct challenges. Before you make a decision you may regret for years, let a professional help you with your choice.
They can offer creative solutions to your design needs, and help you create a space you'll love now and well into the future. We've been designing spaces just like yours for years, and offer advice that can help you make the right choice. Stop by today.