Does it seem like the summers are getting warmer across the Front Range? Even the winters appear to be drier, warmer even in the coldest months. 
How does that change the way you play outside? How does that change the way you live inside your home?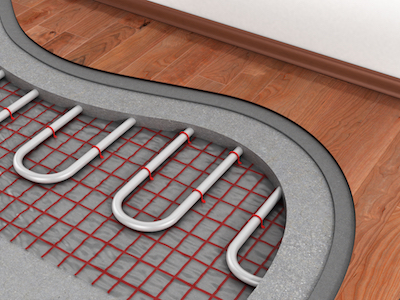 Chances are your furnace works on overdrive when the thermometer dips below freezing. It may even seem as if it never turns off when the negative numbers come to light. And how about the summer months when temperatures can rise to three digits multiple days in a row? It's not unheard of to use both your furnace and your air conditioner in the spring and fall – the days and nights can see temperature swings of 40 degrees or more. 
All of that adds up to large utility bills. But there are things you can inside your home to help control your home's temperature. Instead of looking at your HVAC system, look down at your flooring instead. 
Tile
You might already know that tile is one of the most beautiful, durable flooring choices around. But did you also know tile also is a great way to keep temperatures down when it's warm outside? And don't worry about the winter months; consider installing radiant heating underneath, and your flooring can be toasty warm any time you choose. 
With tiling, you have many styles to choose from. Travertine provides a unique texture that has been used in homes for hundreds of years. Marble is symbolic of wealth and elegance, and is one of the strongest, long-lasting flooring choices you can make. Ceramic tiles offer endless opportunity; you can find it in any style, shape, color, or pattern you desire. 
Vinyl
Today's vinyl isn't what you remember from your youth. Luxury vinyl takes on many different looks and styles. Plus it offers you easy installation, a soft touch when you're walking or standing, and is durable for day to day living. You'll find luxury vinyl comes in many patterns and styles, and even can duplicate your favorite looks like tile or hardwood for a fraction of the cost. 
Laminate
Laminate is already a great choice for both cost and durability. Yet did you know that laminate does not absorb heat like carpeting does? That makes it the perfect choice for long summer days when temperatures creep upward. Laminate also is durable and easy to care for; it doesn't require special maintenance like stone or hardwood. 
Before you make your final selection, make sure you understand the manufacturer's guidelines to know how well your flooring will perform and what maintenance it will require to look it's best. If you have any further questions, stop by. We'd be happy to show you a wide variety of options and help you make the right choice for your lifestyle.