Are you in the market for new carpet? There are many places you can go to finalize your purchase.
Head online, and you can find some great deals. Order it, have it delivered, you can even find a handyman ready to save you money.
Or maybe you should visit your local big box store. After all, you visit there all the time. You picked up gardening supplies a few months ago, and were up there just last week for a can of paint. It truly is one-stop shopping. They have a few racks of carpet, why not go with what they have?
All of these may seem tempting. Replacing your flooring can be a significant investment. Why not save a little money where you can? But the thing is going with an expert will reveal key things you should know before you make your final selection, things places like a big box will never tell you.
But you'll find out in the end.
Here are a few things to keep in mind before you buy new carpet.
Larger rooms will have seams
Seams – they can be problematic if not placed correctly inside your room. Yet if you don't work with an installer with a lot of experience, this can be a nightmare down the road.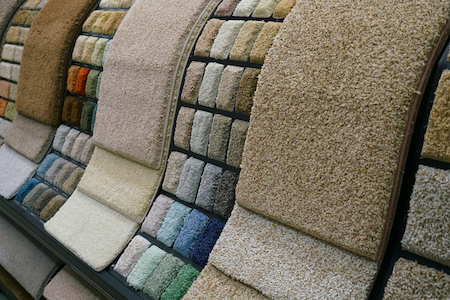 Standard carpet rolls come in standard sizes, usually 12, 13.6, or 15 feet wide. If your room is wider than 12 feet, you will have a seam running somewhere in the room. That's where it's important to have an expert help you, to minimize the effect.
First, if you don't want to have a seam showing, select a darker carpet. Dark carpet colors are much better at hiding seams within the fibers.
You should also plan on where a seam would work out best. Place it away from windows, doors, skylights, and other light sources, as they shine light on where the seam is.
Do you have a specific room layout in mind? If you can put a seam under a bed or sofa, it won't be noticed as much throughout your daily routines.
Remember, where you place the seam matters. It can impact how much carpet you buy. We can help you decide the best location, and order your carpet based on your decisions.
Looking for longevity? Focus on the padding
Many homeowners come in wanting to spend the majority of their budgets on the carpet. And we get it, it makes sense.
But there's a secret some in the flooring industry won't tell you. If you want to ensure a long life for your carpet, invest a little more in the padding.
Padding is sold by weight, so you'll look for the pound rating as a guide. A higher pound rating gives you a denser pad, which allows your carpet to wear more evenly.
The good news is carpet pad is the economical part of your purchase. To upgrade won't cost you much more, but it can give you years more life. Some carpet warranties even require you to install certain rated padding if you don't, your warranty is null and void.
Will some carpet retailers tell you that?
There are different ways to carpet your stairs
Installing new carpet isn't something you do on a regular basis. Which means there are a variety of things you simply don't know to ask for.
Like how carpet will be installed on your stairs.
Some installers will drape the carpet over each step before attaching it to the next. This gives it a waterfall appearance. But if you ask, you can also have carpet installed in a "French cap" method where the carpet is tucked under and stapled to each of the risers below. This creates a neater, crisper edge.
Let's talk about furniture
You've lived in your house for years. You have sofas, and chairs, and tables, oh my. All of that furniture looks great as you enter the room, but your carpet installer will only look at it as a challenge.
In order to make the installation go smoothly, move as much of the furniture out of the room as possible. Carpet installers aren't furniture movers, and most will charge you extra if they have to do it.
That also means some furniture may be at risk – grandfather clocks, baby grand pianos, or your grandmother's china cabinet may all be damaged in the process. When in doubt, move it out before your installer arrives.
Installers need electricity
Are you having a section of your home remodeled? Is the electricity off for construction? Be sure to tell your installer your plans.
While installing carpet is a manual job, they will use compressors, seam irons, vacuums, and other power tools throughout the process. They can bring in a generator if they know they may be without electricity. But if you don't warn them ahead of time, it can cost you time in the installation process. And that can be an extra charge to bring them out.
Carpet removal is not the same thing as carpet installation
Before a carpet installer lays the new carpet into place, they have to pull the old carpet out of the space, including the pad.
And while you've tried to keep it clean, invariably a lot of stuff gets buried into the fibers and pad that will resurface while being carried out.
If you want other rooms in your home to stay clean during the process, close them off. And if you're going to have other rooms cleaned, it might be a good idea to wait until after the installation.
You should also check with the installer to see how they handle the removal. Some will charge for carrying your old carpeting away.
Understanding stain-resistant carpet
Carpet is made from fiber, and over time, fiber can be stained.
Carpet manufacturers have come a long way in the past few decades, creating carpet that can withstand a lot of daily activities. But in the end, carpet is stain-resistant. It's never stain-proof. That means how you care for it will determine how well it looks from this day forward.
If your carpet comes with something like Stainmaster™ built into the fibers, it might require new applications every few years to maintain its effectiveness. Check with the manufacturer at the time you buy to ensure you follow their guidelines.
It can also make a difference in ensuring your warranty stays valid.
Are you ready to buy new carpet?
We can help. Stop by today, and we can help you make the right choice for your home.