Have you noticed almost every home you go into across the Front Range has wood floors? There's a reason for that.
Head back in time, and you'll find homes predominately used wood for floors. This wasn't expensive wood, rather it was whatever fit their budgets, often being little more than particleboard. Of course, they didn't have our modern day finishes and varnishes, so they used sand and wire brushes to level it out, occasionally bleached it with lye to bring it to a neutral color. In most cases, they used paint as a decor statement, or simply covered it up with their handmade rugs. These floors weren't beautiful. They were functional at best.
To make them beautiful, they started having fun with decorating techniques. They'd use paint to create borders and patterns. They'd do what they could to "pretty" them up.
The sign of wealth showed up when a homeowner had rugs or carpet installed. Rugs were handcrafted by true artisans. They often came from different parts of the world. If someone could afford a rug, you knew they'd found success.
Is wood flooring good?
The industrial age brought on many new things in our lives, including mass production. Whereas people used to have to forage local areas for the wood necessary to build their homes and install flooring, now they could be selective about the type of wood they used.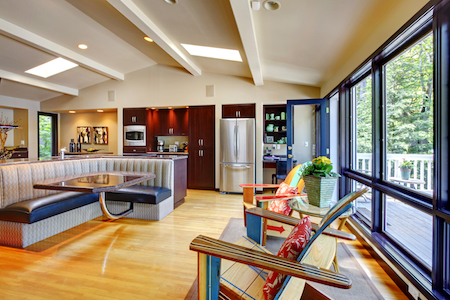 And that meant humans started focusing on quality.
We also became better at building. We learned to use subfloors and insulation for protection and warmth. Flooring was no longer a mishmash of materials based on what we could find nearby.
And that changed everything.
What are the 7 main benefits of wood flooring?
1. It's good looks
You can never go wrong with the classic looks of hardwood flooring. They'll never go out of style. Maybe that's because there are so many looks to choose from.
When you first enter our store, you'll find a large variety of choices. Light or dark wood? Something more traditional, or do you prefer exotic? Want something eco-friendly? Want something that will look good for decades? We can point you in the right direction.
What's more, with hardwood, you also have the opportunity to refinish it when it starts aging, and its classic looks begin to fade. Some hardwoods have been known to last fifty years or more.
2. It's durable
Today's hardwood is no longer taken from a local tree and installed without proper processing. Instead, they are kiln-dried, manufactured, and finished to meet specific standards. Depending on the materials you choose, they can be durable enough to last even in commercial applications.
https://www.nwfa.org/technical-standards.aspx
If strength and durability are something you are particularly concerned with, learn more about Janka hardness test. The Janka test lists hardness values for all types of wood used for flooring applications, ranking them for how well they sustain denting and wear.
https://en.wikipedia.org/wiki/Janka_hardness_test
3. It's easy to maintain
Wood floors are one of the easiest flooring types to keep clean, no matter how busy your household is. They don't accumulate dirt and debris, nor will they stain under most circumstances. If you spill, simply wipe it away. A weekly cleaning is often nothing more than running a vacuum over it to remove the debris, with an occasional damp mop for a deeper clean. Be sure not to let the water pool, wipe up spills immediately for best results.
4. Variety
While we've mentioned it's classic good looks above, it's worth another look at the different options you can find in the hardwood flooring industry. It's no longer just about using standard species like oak or maple.
Have you ever thought of using cork? Cork is an environmentally friendly option that is processed from the bark of a tree rather than the inner wood itself. That makes it sustainable, as the tree doesn't have to be harvested for the product. It can reproduce bark every few years, and last for decades to give the farmer a recurring revenue stream. That's good for the environment, and good for your home.
You can also select from a wide variety of species, and even change the look further by selecting your own stain and finish. Darken the wood to produce a dramatic space. Lighten it up for an open, airy appearance.
5. It's a great investment
If you're at all thinking of selling your home in the future, you can't go wrong by installing hardwood floors. Wood floors are shown to consistently hold their resell value, and you'll find it boosts your home's price enough to recoup as much as 80 percent of the installation costs.
https://www.realtor.com/advice/home-improvement/what-type-of-flooring-should-i-install-for-best-resale-value/
Why? Because new home buyers demand it. There's nothing that makes a home look cleaner and more up to date than walking into wood floors throughout.
6. It's healthier
Indoor air quality is no longer on the fringe, something that only scientists or medical practitioners consider. If you have a family, chances are you do your research well, and want only the best for each member. Of course, you want to create a home environment where everyone thrives.
Wood floors are healthier, depending on which manufacturer you choose. If you're concerned with quality, be sure to ask us for the best products on the market. We'll steer you to the ones that are produced without harsh chemicals, and that won't require glues with higher levels of VOCs. And because they don't harbor dirt, dust, particles, dander, or allergens the way other flooring does, you'll breathe a sigh of relief, knowing your house is as clean as it can be.
7. It's ageless
If you want a floor that will last years – decades – wood flooring is your choice. Long after other flooring options look tired and worn, hardwood will keep on looking its best. And even when it starts looking dull and tired, you can sand it down, stain it, refinish it, and it will pop right back into great shape.
https://pro-flooring.com/refinish-your-old-hardwood-floors-or-replace/
If you install hardwood flooring today, rest assured it has the possibility of being in your home as your family grows and ages.
And that can be a very good feeling, knowing you're installing a flooring that will do well by you for years to come. It's more sustainable – meaning it will lower your carbon footprint. And you won't have to sacrifice good looks during the process.
Are you ready for wood floors in your home? If so, we can help. Stop by today and see our complete selection. We'll help you choose the right floors for your space.