Looking for an eco-friendly flooring? Consider bamboo flooring. According to a new report, the worldwide market is expected to increase over 3.5 percent over the next five years, making bamboo flooring well over a billion-dollar industry.
Why? Because bamboo flooring is perfect for your home.
For many homeowners, they start the process by looking at bamboo as a great alternative to classic hardwood. And we agree – if you've always wanted oak or maple hardwood, you'll love bamboo.
Bamboo offers so much more. We're convinced that when you discover all the benefits of bamboo, they'll move up to the top of your wish list. Here's why.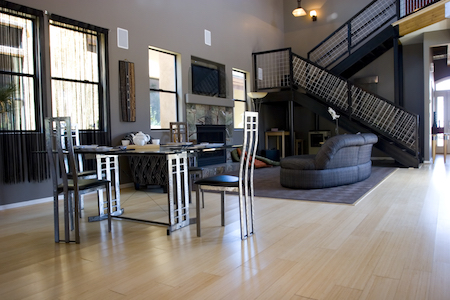 Bamboo is eco-friendly
That's what brought you to this article in the first place. Bamboo isn't wood – it's grass. Whereas trees can take decades to grow to maturity, bamboo is the fastest growing plant on earth. Bamboo can be harvested every 5 to 7 years, and because it's a grass, it simply grows back up again. That makes it a superior choice for anyone worried about what we're doing to the planet.
Because you don't have to remove the plant and start all over with a seedling, it begins growing again after every harvest. In some cases, bamboo plants can grow up to two feet per day, making it a perfect crop for farmers around the globe. But like everything, there are good and bad ways to approach this crop.
Harvesting bamboo actually makes the stalks healthier. That's because removing the tallest plants lets the light filter down to those below it, giving them a chance to rise to their full potential.
When planted correctly, bamboo plants also help with land erosion. Bamboo has long root systems. They reach down and spread across like spider webs, helping create a strong base within the planted area. This helps in areas especially vulnerable to erosion, and can improve the surrounding area over time.
Bamboo also can generate as much as 35 percent more oxygen than an equal number of planted trees. This makes it a great crop to plant when trying to improve soil facing degradation from previous mishandling.
Not all bamboo flooring is created equal
If you've done your research in hardwood flooring, you know that only certain manufacturers offer sustainable growing practices. The same applies to the bamboo flooring industry. Be sure to do your research to ensure that your final bamboo flooring choice is harvested from well-managed forests.
Because of the popularity of this product, new fields are being planted around the globe. In some cases, bamboo fields are taking the place of other crops, which can have a negative impact on biodiversity. Bamboo isn't as regulated as hardwood, so it's important to do your part and look for quality manufacturers. For the most eco-friendly bamboo flooring, look for products marked with FSC-certification to ensure it meets proper code.
You can also work with flooring dealers that are proud members of the community, have high BBB ratings, and care about the quality of every product they put out to the marketplace. If you have a question about where a flooring choice is sourced, just ask.
Look for strand woven bamboo flooring
If you've ever read about bamboo performing poorly once installed, it's probably because it was one of the first phases of bamboo flooring. Now, manufacturers produce strand woven bamboo flooring, which can be as much as three times harder than hardwood.
The flooring industry uses the Janka Hardness Test to rank the hardness of various types of wood floors. When you select strand woven bamboo, it tops the scale in hardness. It also has high tensile strength, which refers to how much force it takes to pull the material apart. No matter what you dish out, bamboo flooring keeps bouncing back. (Try that with some hardwood, especially the softer woods.)
Versatility
Now that you've read this far, it's easy to see why many homeowners are selecting bamboo flooring over hardwood. Because it's more versatile in every corner of your home.
With bamboo flooring, you can lay it in places where traditional hardwood isn't an option. Want to install it in below-grade basements, for example? Or how about on a concrete subfloor? Not a problem. Bamboo flooring will perform well. Have a high traffic area you're not sure will stand up over time? Bamboo flooring is a great choice.
Durability 
Because of bamboo flooring's strength, it's considered to be a highly stable option for your home. It does well in high traffic situations, and can withstand lots of action from kids and pets. If you've had hardwood flooring ruined by pets' nails before, you're going to love the improvement you'll see after installing bamboo flooring.
Keep in mind that you get what you pay for. Different manufacturers use different treatment processes. These processes can increase hardness, but they may also increase the brittleness and make the floors weaker by comparison. It pays to do your research and talk with a flooring consultant to ensure you install a high-quality product.
Bamboo flooring is one of the most stylish choices
Bamboo has many of the characteristics you associate with traditional hardwood. That means you can install bamboo and expect classic good looks in much the same way as you'd gain from hardwood. Like a golden oak stained hardwood? There's a bamboo flooring choice for you. Want something more exotic – dark or light coloring? There's a choice for you.
Keep in mind that while darker colors in hardwood signal the wood will be stronger and more durable, the opposite is true with bamboo. Bamboo is naturally a light tan color. To turn it dark, it has to go through a process called carbonization, which uses heat and pressure to turn the strands a dark, smoky color. This process weakens the bamboo and lowers the strength and durability.
Yet depending on which manufacturer you go with, there are many different options, a perfect one to suit your personality and match any decor.
Is bamboo flooring right for you?