A lot can go into selecting flooring for your home. You might start with a specific material in mind. Or have a certain color you prefer.
Thanks to the pandemic, we're seeing more homeowners start with another request: clean flooring. Hard floors produce a healthier living environment. And that shows up in preferences. Studies consistently show hardwood tops the list of what buyers want for their homes.
Whether you're designing a home, or remodeling your existing one, starting with a hard floor surface area provides the basis for a clean, healthy place to live.
Why are more homeowners turning to hard floors?
They're easy to clean, disinfect, and sanitize
Homes get messy. Gravity ensures that.
But if you start with a base that's easy to clean, those messes your family makes won't bother you. You'll simply wipe them away.
Hard floors give you a clean surface area that's easy to sweep up dirt, hair, and other debris that accumulates. It's easy to swish it away, reaching every corner effortlessly.
For a deeper clean, you can use antibacterial cleaners approved by your flooring's manufacturer to ensure the surface area is free of pathogens and other germs. Just ask; we can provide you with the best care solutions to ensure your flooring stays looking good for years. You can also check online with your flooring manufacturer for their list of suggested cleaning products. Stick with their guidelines to ensure your flooring continues to look great, and remains under warranty.
They don't trap dust or allergens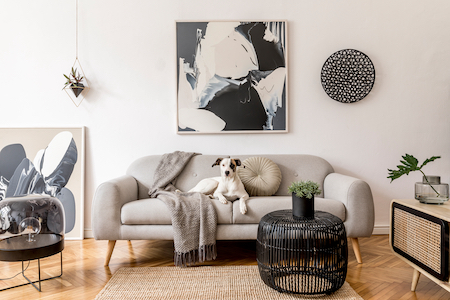 The smooth, hard surface area of hard flooring ensures dust, dirt, pet dander, pollen, and other debris sits on top of the surface and doesn't burrow down into the material. It's easy to wipe it away. A clean environment reduces your allergy symptoms, and may lessen other respiratory issues.
They provide better air quality
Right now, Americans spend, on average, 90 percent of their time indoors. Studies show that concentrations of some pollutants can be 2 to 5 times higher than what you'll typically find outdoors.
Pollutants can be found in a lot of places inside your home:
VOCs in building materials
Harmful chemicals in cleaning products
Chemicals released in the cooking process
These are just to start.
Yet your flooring is the basis for your home design. It can trap and harbor dust mites, allergens, and other debris as it enters and settles onto your floors.
Many hard flooring surfaces are a natural byproduct, which means they are created using healthier materials. Because they are hard, they are easier to keep clean, meaning they won't trap the particles that can make you sick. For many, the basis of home aesthetics starts with hard floors.
Which hard floor is healthy?
As you browse through different flooring options, it's easy to get confused by the sheer number of choices. How do you know which to pick? Which direction should you go?
We have three healthy flooring choices that give you clean living options while ensuring you love the results.
Hardwood
If you search through our site, stop by our store, or chat with one of our associates, you'll find hardwood flooring moves to the top of the list for all sorts of reasons.
And if you're looking for hard floors to produce a healthier living environment, hardwood remains at the top of the list. Why? Because it's a natural product that provides classic good looks to any room in your home.
If you are considering hardwood, look for manufacturers that care about the production process. Select solid hardwood that comes with the Forest Stewardship Council, or FSC, seal. With this seal in place, you'll ensure that the forest is properly managed according to FSCs rigorous social and environmental standards.
It stretches beyond the materials used for hardwood flooring. It also applies to the glue used to adhere hardwood to the subfloor, and the stains and seals used to keep your hardwood planks looking good for years. Many products use certification programs like GREENGUARD to reduce indoor air pollution and the risk of chemical exposure.
When a manufacturer uses these labels, you can feel better about the products and materials you're bringing into your home.
Natural linoleum
While hardwood may work well for most rooms in your home, linoleum can be an option in moisture-prone areas like bathrooms. Both water-resistant and resilient, natural linoleum can be a great choice for bathrooms, laundry rooms, and even kitchens.
Linoleum is made from linseed oil, pine resin, wood flour, cork flour, limestone, and pigments, pressed and held together by a jute backing. This affordable, low-maintenance option can be installed over both concrete or wood subfloors, and only requires an occasional coat of natural wax for care and upkeep. With proper maintenance, this flooring choice can last for years.
Ceramic, Porcelain, and Glass Tile
If you're looking for more water-resistance in your bathrooms and kitchen, ceramic, porcelain, and glass tile may be the solution. Tile can be a sustainable choice. You can look for options made from recycled materials to bump up the environmental-friendliness of the product.
To ensure it's the healthiest on the market, focus on low-VOC production, adhesives, and sealants. GREENGUARD-certified products can point you in the right direction. Also, use cement-based grout, which doesn't emit harmful VOCs.
Hard surfaces last longer
For many homeowners, it's a constant juggle of keeping the aesthetics fresh and new, while ensuring updates and care fit within your budget.
If you don't want to be replacing your flooring every few years, hard surfaces give you the longest life possible.
Ceramic, porcelain, and glass tiles can last 20 years or more. The grout may need scrubbing and resealing every five years or so, but with proper maintenance, it'll continue looking good for years.
Linoleum can last for decades with proper care. Keep the surface clean from dirt and debris, as this can mar the surface area. Moisture, spills, and harsh chemicals can be hard on the surface. Be sure to use manufacturer-approved cleaners, and wipe up messes quickly to avoid damage.
Hardwood has the added bonus of being refinished. Depending on the hardness and size of each plank, you can refinish it several times. This adds to its longevity. Instead of replacing the entire flooring, refinish it to make it look brand new. You can update based on trends, or as your preferences change.
Is now the time you update your flooring for a healthier living environment?
Start with hard floor surfaces. You'll love the results.