Depending on the community you grew up in, you might use the terms carpet and rug interchangeably.
If you look up the words in the Oxford dictionary, rug is defined: a floor covering of thick woven material or animal skin, typically not extending over the entire floor.
Look up the word carpet, and it's defined as: a floor or stair covering made from thick woven fabric, typically shaped to fit a particular room.
For many in the flooring and design business, the differences come from moveability. Rugs can be picked up and moved around freely. Carpet is tacked down and is meant to stay in place within a particular room.
The term rug seems to have a Scandinavian origin. The word was first used somewhere around the 15th century, and typically described a small floor covering no longer than six and a half feet. One of their most tell-tale characteristics includes being bound at the edges. It is also free to move around for transportation and maintenance.
The term carpet comes from Latin, being used the first time in English around the 13th century. Its translation means "coarse cloth" or "tablecloth", where it remained until the 15th century when it moved permanently to being used as a floor covering. Carpets are usually characterized by their size, the fact that they can be stretched into place, and once installed, are fixed in one place.
Which one is best for you?
The pros and cons of rugs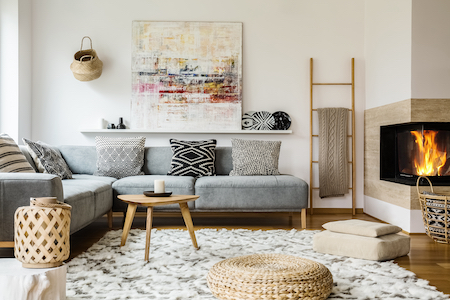 When you think of home design as modern, artistic, with a touch of personality, rugs automatically pop into the picture. That's because the sky's the limit when it comes to what is possible with rug design.
Because they are smaller in size, artists can be more creative. Bright colors, vivid patterns, and even different shapes can all play into your decor. Instead of being the base for a room design, rugs can actually be a part of the decor.
Since they are smaller in size, they are easier to clean and maintain. Spilling red wine may still cause a problem, but in general, the smaller size makes it easier to react quickly. If it's washable, you can throw it into the wash. You can pick it up and bring it to a professional cleaner where they can work on the stain.
This isn't good just for the occasional party stain. It's good for deep cleaning too. Rugs sit on the floor, which means they're more prone to picking up things like dust mites, pet dander, pollen, and other contaminants your family tracks in. Whatever enters usually settles on the floor. That can include dirt, grime, even mildew over time. With a rug, you have the ability to move it around and clean it in the best way suitable for your needs.
Want even more flexibility with your decor? Prefer to change out the look and feel based on seasons or holidays? Rugs make it easy. Move a few pieces of furniture aside, lay down the new rug, and you have an entirely new look and feel inside your home! It can be a fun and inexpensive way to add variety and pizzazz to your home's decor.
While the benefits of using rugs inside your home are many, there are a few downsides as well.
Because rugs aren't tacked into place, they are more likely to be a tripping hazard. This is where quality comes into play. It can also be a problem for the elderly, or for people with mobility issues.
You'll never get the same look you can achieve with wall to wall carpet. If you want softness and warmth, carpet can't be beaten.
Rugs are also better suited for colors and patterns. Why get a rug with neutral tones … leave that for carpet.
The pros and cons of carpet
The great news with carpet is it looks good in many rooms throughout your home. Want warmth in the bedroom? Look no further than carpet. Want softness in a kid's playroom? Carpet is the perfect choice.
Homeowners turn to carpet for many reasons. Here are just a few.
First up, carpet is a good floor covering when you have small imperfections with your subfloor. Have a subfloor that isn't quite level? Looking to hide imperfections? Carpet maybe your choice. That's because it's secured to the floor with glue, cement, or tacking, with thick padding located underneath. This padding is designed to increase longevity, provide softness, and provide support as you walk across. Slight changes in the subfloor won't be noticed with this flexible material.
Carpet also has an ability to tie the look and feel of your rooms together. It can create unity throughout your home as one solid color flows from room to room. And because homeowners tend to stick with more neutral colors, it can be a good base for whatever personality you want to instill into the space. Whatever your color theme, whatever your personal color palette, today's carpet manufacturers have designed something you're sure to fall in love with.
Carpeting also provides warmth to your home. If you've ever stepped on cold tile on a winter morning, you'll appreciate being able to dig your toes into the warmth of carpet fibers. It also has the ability to hold warmth closer to feet level, meaning you'll be more comfortable overall.
Want noise reduction? Carpet provides that too. That can be especially important in multilevel homes where you spend a lot of time on all levels. Hard surfaces can cause echoing, meaning the noise can filter to all levels. With small children who sleep at various hours, or adults that work night hours, this can impact your daily behavior.
Carpet isn't without a few cons. One of the biggest issues is the ability to clean it. You can't pick it up and throw it into the washer. That means when spills occur, acting quickly will be your best course of action. Carpet on the floors may alter your behavior. You'll have to vacuum and clean it more often. It may even cause you to restrict certain activities from taking place – outside parties instead of inside gatherings.
If you want natural products, and have a concern for eco-friendly choices, you'll have to pay attention to the fibers you select for your carpet. Off-gassing can be a concern with synthetic materials. Work with a flooring dealer if you're looking for a safe, natural carpet.
Thinking of changing up your flooring? Will you add a new rug, or is new carpet more your style? Either way, both give you creative ways to add color, style, and personality to your home. In the end, whichever you choose, you'll love the results.