Whether you're planning a do-it-yourself project, or will hire someone to install new flooring for you, it's not just the flooring material you should concern yourself with. Floor adhesive is also important. Floor adhesive will ultimately determine the wearability factor of your flooring. It can also introduce chemicals into your home you may not be aware of.
Do a little research and you'll quickly determine there are a wide variety of products available on the market today. What's safe? What does a good job? Will one last longer than others? Is there a "best" you should consider?
Of course, there are many things to consider. Here's a guide to help you understand floor adhesives a little better, and to help you determine the right one for your home improvement project.
What is floor adhesive?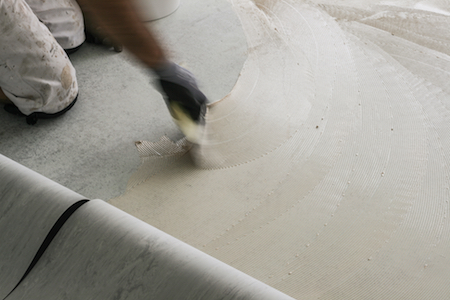 Floor adhesive is a strong, permanent glue that is used for attaching flooring materials to a subfloor or underlayment. Each type of flooring will have its own recommended adhesive, although you can find multi-purpose adhesives that do the job too. In order to find the right adhesive for the job, consider the following.
Location
If you're remodeling a room in your home, your biggest factor will be to decide how well the flooring will handle under different conditions. Bathrooms and kitchens will have more situations where moisture may be a problem than will dining or family rooms. Exterior locations, such as outdoor living spaces, will need a floor adhesive that can handle all kinds of weather conditions, including the stress from moisture, extreme heat, and freezing conditions.
Recommended For
Like other materials, floor adhesive will often be specific about what it's made for. Check out the label, and it should provide specifics about the environment it handles well for, and what materials it works best with. Pay particular attention to any reference to a product that lists "but can be used for" in addition to its intended uses. Homeowners often fall into the trap of using one product for many jobs – it's easier and less expensive than running to the store multiple times. Yet flooring is one of the most important materials in your home; get it wrong, and you'll pay the price. To do the job right, always stick with a floor adhesive that is intended for the project you are doing.
Substrate
The substrate – the underlayment or subflooring – should also be considered when selecting floor adhesive. Certain adhesives will bond better to different subfloors. Concrete in a basement, for example, will require a different bonding material than a plywood subflooring used in the bedrooms. It also depends on grade – a cool, damp basement has different needs than a warm home office on the second floor. You should also consider the type of flooring you'll be installing, and whether you'll be using radiant heating in your final application.
VOC
Volatile organic compounds (VOCs) are toxic materials often associated with a variety of building materials. They can offgas when introduced into your home, creating toxic indoor air quality. Different floor adhesives are created from different chemicals, which makes some more volatile than others. If this is important to you, be sure you check labels and ask questions to ensure you are installing the one with the lowest VOC content.
Drying Time
Some floor adhesives dry faster than others. Some floors must sit without anyone walking on them for extended periods of time to cure properly. If you have a busy household, or are planning an event in which you'll have a lot of people walking on the floor, be sure you understand all of the nuances of the glue before you lay it into place.
Coverage
Every floor adhesive has recommended guidelines for how much you'll need to put your flooring into place. Pay attention to coverage guidelines. Use too much, and it may be difficult to spread, put into place, and have longer drying times. Use too little, and you may have problems with your floor not adhering the way it should. Figure out how much you'll need by calculating the square footage of your space, then add another 10 percent for error. The last thing you want to happen is to run out of material right at the end of your project.
Shelf Life
Have some extra adhesive left over? Have to put your project on hold, and wondering how long your floor adhesive will last? Follow manufacturer's guidelines before you store it. Glues often lose performance the longer they sit. They can lose their ability to bond, which can impact the functionality of your floor.
Protection
If you do turn it into a do-it-yourself project, follow all guidelines when installing. Make sure the area you are applying floor adhesive to is well-ventilated. Use a mask or respirator to help protect you from breathing in the chemicals. It's also recommended to wear goggles and gloves to protect your eyes and your skin.
Self-Adhesive
Some forms of flooring, including vinyl, cork, and linoleum, are available with a self-adhesive backing for easy installation. This means the adhesive is already in place, and all you have to do is peel off a paper covering to reveal the glue, and then drop it into place on your prepared subfloor. This makes the installation process easier as you won't have to apply the floor adhesive before you lay the tiles. This also creates a perfect blend of how much glue you'll need, and you won't have to buy extra materials to have the look you desire. It's an easy solution for a lot of do-it-yourselfers.
Hiring It Installed
Just because you're hiring a contractor to install your new flooring for you doesn't mean you should ignore the process. Ask questions about the installation process. Learn what type of adhesive will be applied. Can you request less toxic chemicals to be used?
When you come in and speak with one of our flooring consultants, we can answer all of these questions and more.
Whether you're looking for a DIY project, or want us to handle the job, we'll ensure you get the very best flooring and installation process you'll be happy to have in your home.
Stop by today and let us help you choose the perfect flooring for your needs.