Trying to decide the best flooring for your home? Maybe it's time to consider linoleum.
Linoleum is increasing in popularity for a variety of reasons. It's eco-friendly. It's easy to install. And the color and style choices make any look possible.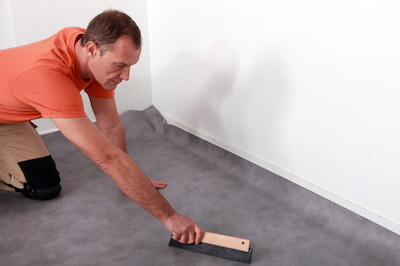 Linoleum is a resilient flooring material, which means it's flexible and soft to the touch, bouncing back into its original shape. Though many people confuse it with vinyl, they are two separate things. Linoleum was invented in the 19th century, and is made from linseed oil and other materials, including cork dust, pin rosin and wood flour. Because it is made from all natural products, it is a great option if you are attempting to go green at home.
One of the best features of linoleum is its longevity. With many flooring choices, we begin counting the months almost immediately as to when it will need replacing. Linoleum is incredibly durable and can last up to 40 years if it is properly maintained.
Linoleum is also easy to maintain. Regular sweeping and occasional mopping can keep it in good condition indefinitely.
What makes it an increasingly popular choice is its health benefits. Linoleum is made from a renewable resource, linseed oil. And when laid in place, it does not emit volatile organic compounds (VOCs) so it won't cause indoor air pollution. That can be a welcome relief for anyone suffering from asthma, allergies, or other respiratory problems.
And because it's a softer material, it's comfortable underfoot. It's a great addition to kitchens, where standing for long periods of time is a standard. It's also good for aging in place remodels, where falling may be an issue.
Linoleum is one of the more versatile flooring options available, with a wide variety of colors, styles and patterns available. You can create unique mosaics with tile linoleum, as it is very easy to cut to exact specifications.
Think linoleum might be the perfect choice for you home? Stop by today and see all of the options available to you.