Of all the materials located in a commercial or retail location, flooring is arguably one of the most visible and one of the most important components to a building structure.
It makes a first impression
It provides safety with the changing seasons and weather conditions
It creates a comfortable environment
Few would argue that commercial flooring has to endure a considerable amount of wear and tear. Very few materials have to stand up to daily use the way your flooring does. Make the right choice, and it's a major expense. Make a wrong choice, and the expense skyrockets; it can throw a very large kink into your budget.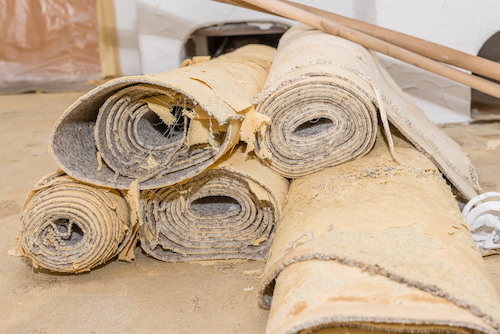 Like every aspect of operating a commercial property, the flooring lifecycle is one you have to pay close attention to. How do you know when you've reached flooring end of life? How can you budget correctly to ensure you get the most out of every dollar you spend on your flooring?
Just because it's a major expense doesn't mean you should overspend. If you plan correctly, you'll know how to select the correct flooring for your property, understand the lifespan, and how to dispose of it correctly when end of life is reached.
Determining flooring lifecycle will give you a bigger picture of your options. It will help you achieve tight budget controls during the construction phase, as well as understand your costs down the road.
When you see the big picture, it helps you make wiser choices. It helps you determine what to spend today, in order to keep costs down throughout the life of your flooring.
Start With A Plan
How do you choose the best flooring? It's a balancing act between the functionality of the commercial space, and how each flooring choice will hold up with daily use. For most property owners, the best place to start is with a few questions.
What is the general purpose of the property?
Who accesses the building?
What jobs will they be performing?
What activities take place, and how will that impact the flooring?
What traffic level will the space see?
What about aesthetics? How important is that to the overall design?
With flooring lifecycle planning, you can easily see that the lowest priced flooring might not be the best choice. It may be more expensive to maintain, and require replacement years sooner than other choices.
Lifecycle planning takes into account total dollars spent on everything from materials and installation, to service and maintenance, to end of life disposal.
Maintenance and Upkeep
While many property owners may focus on initial cost, it can be maintenance and upkeep that by far are the most expensive part.
The longer a floor lasts, the greater number of years you can divide initial cost into. That ultimately saves you in the long run. And as a flooring ages, it often requires more upkeep to keep it looking its best.
Maintenance is usually required to keep a floor attractive and functional. And that depends on the type of flooring and the amount of use of the floor. High traffic areas have different needs than smaller offices with little foot traffic, for example.
In some cases, you can handle maintenance and upkeep onsite. In other cases, you might need a janitorial or flooring service to handle maintenance for you. You need to balance these monthly costs with initial costs to come up with an accurate outlook of the best flooring to purchase.
What To Do At End Of Life
If you're trying to make a decision about what flooring to install in your commercial property, why think about flooring end of life now? Turns out there's a very important reason.
Specifically, the carpet industry in the US alone produces 11.7 billion feet of carpet each year. And when it comes to disposal, almost 4 billion pounds ends up in the landfill (that's nearly 3.5 percent of all waste disposal in US landfills.)
And that's just carpeting.
But it doesn't have to be like that. You can start making your plans today. Decide what to do with the flooring you're about to rip out, and make a conscious decision about how you'll replace your new flooring at end of life. It makes the entire process more green – especially if you're shooting for LEED certification, or adhering to zero-waste policies.
What options do you have?
Reuse it – For some materials, you have the possibility of reusing it in other ways. Many products have easy install and removal specifically for ease of use. Lock-in place laminates, pressure-sensitive adhesives on resilient flooring, and carpet tiling are easy to pick up, cleaned, and relocated. You'll have to look at wear, but it's often doable to relocate tiles from higher traffic areas to lower traffic areas, and get better wear out of the entire floor. That means you can extend the life indefinitely, rather than ripping out materials because of visible wear marks.
Third-party use – There are flooring companies that find homes for reuse flooring. Instead of throwing materials away, these companies find other venues where the materials can have extended life. That's where things like reclaimed hardwood come from. In some cases, you can even reuse flooring in other projects. Handy crafters have made furniture and tabletops from flooring from places with sentimental meaning.
Recycle it – Recycling it is almost a given – we recycle everything, so why not flooring? Many flooring companies are stepping up to the plate and initiating recycling programs as a part of their business model. Shaw, for instance, prints an 800 number right on the back of their materials. When you call them, they will transport and recycle any product that's a part of their program. Now that you know that, will you shop differently for the flooring you install in your commercial property?
Sometimes the best questions to ask about new flooring don't start with color or product. Instead, they think about the overall flooring lifecycle, and what happens with flooring end of life.
To make your property the best it can be, maybe the best place to start is at the end.