When you're building a new commercial property, or remodeling one already in existence, a lot of thought goes into marketing. Who do you want to attract to your property? What type of clients do you wish to lease to?
Because every business has a different look and feel they portray to their target audience. All you have to do is look at the differences between McDonald's and Elway's to understand that to be true.
Some businesses thrive on high traffic. They need durable surfaces that can take abuse as customers come and go all day long.
Other businesses thrive on luxury. They don't worry about a revolving door. They cater to the ones and two's. They have a very specific audience, and they'll go out of their way to protect the image, only bringing in prospects if they meet certain qualifications.
This targeting process may rely on marketing, but it starts with something even more basic. It starts with the decor. When people walk through the door, they expect high class. And nothing says that in greater detail than with natural wood floors.
Selecting the right wood floors for a commercial property
Just like in your home, flooring sets the stage for what lies inside. Imagine walking into an investment firm with old rug tiles where half of them were torn or missing? Would you trust them for investment advice?
Studies show we form our opinions quickly. It takes only one-tenth of a second for us to form an opinion about people. We assess judgment about trustworthiness, likeability, competence, and aggressiveness in just 100 milliseconds.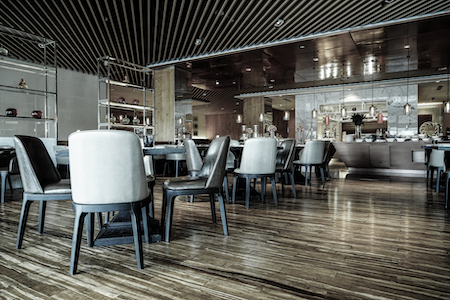 Still think your flooring doesn't matter?
Hardwood flooring has always worked well in commercial spaces. The key is in selecting something durable.
Oak is one of the most popular and durable wood surfaces on the market. It's easy to clean and maintain, and does well in high traffic situations. It also has the potential to last for years. When it needs refreshing, you simply sand it down and resurface it to give it new life.
But what we love more than all else is the timeless beauty that comes along with wood floors. Especially here in Colorado, hardwood goes right along with our outdoor way of living. That's why interior designers and business owners alike install wood floors just about anywhere. They know it will never go out of style.
All you have to do is think about your favorite store, restaurant, or hotel. Chances are there's hardwood in there. Hardwood has been popular for decades – centuries – and with today's technology added into the mix, it's likely to remain at the top of wish lists for many years to come.
Other reasons to select wood floors in your commercial property
We realize it probably won't take much to sway you towards hardwood as a selection. But there are many other reasons for you to consider this as your flooring of choice.
Wood floors add to property values. You might not be thinking about selling, especially if you're just building. But it's nice to know that wood floors will boost up the value if you ever do decide to sell. Buyers want materials that are timeless, that they won't have to replace immediately after taking ownership. And with hardwood flooring ticking that box, it's one more benefit to choosing it as your final selection.
Another big benefit that is often overlooked is the improved air quality that comes with wood floor installation. Are you trying for green certification? Do you have hopes of creating a LEED certified building? Wood floors can help you do that by providing the base on which to build on.
Where do wood floors work best?
If you're leaning towards wood floors for your commercial property, our advice would be to go with your gut feelings. Chances are you know what it's like living with wood flooring at home, and you can bring that same feeling to the commercial side.
Keep in mind that commercial grade wood flooring is different from residential. We can help you find the perfect solution to fit your needs.
Hotels, for example, are a great place to display wood floors. From the lobby, to the hallways, to each individual room, it can create a clean, minimalist look your guests will love. Many five-star resorts boast luxury, and wouldn't want anything else to adorn their floors but hardwood. It might require a little more maintenance from your staff for upkeep, but that's all part of the process. Your customers demand it, and it creates a look that will have them saying "see you again" from the moment they step inside.
Of course, hotels aren't the only place for wood flooring. Offices are a prime candidate for hardwood throughout. Office space is often a balance between practicality and aesthetics, depending on who your customer is. Floors should be functional enough to maximize productivity, while creating a workspace conducive to avoiding risk or distractions.
In heavy traffic areas, remember that hardwood can create potential noise pollution caused by people walking in certain shoes or heels. Be aware of this and pay attention to the product you select, and choose a thick underlayment that helps reduce noise.
Restaurants are also a great place to install wood floors. Do you love hardwood in your dining room at home? Mimic that look in your restaurant. Just be aware that food and drinks will be spilled. Select a quality product that can stand up to the abuse. Also, be mindful of the color, finish, and aesthetics of the material. Some colors show stains and marks easier than others.
A room with primarily adults would require different surface materials than a family-friendly environment. A romantic evening for two has a different appeal than a place you take the whole family.
Are you adding wood floors to your commercial property? How can we help you finalize your decision?