There are many things to worry about when you bring your bundle of joy home for the first time. You may spend hours considering the right colors, selecting the right furniture, even choosing the right fabrics that will be next to your baby's skin.
But what about the flooring in your nursery? Are hardwoods too hard? Are carpets too messy? One search online will pull up a host of troubles with every potential flooring choice on the market.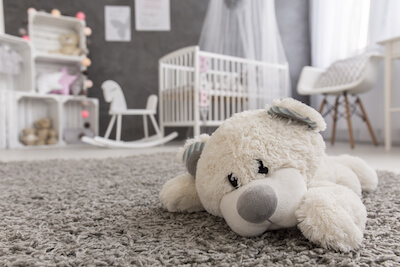 With so much else to worry about, keep these tips in mind as you are making your selection.
Carpet
Carpet is soft, comfortable, and cushiony on the knees – a perfect combination as your baby starts to move around. Additionally, carpet is one of the best floor coverings for preventing dust and other allergens from becoming airborne. Just be sure to vacuum regularly to pull all dust away from baby's delicate skin. And if natural products are a concern, you can never go wrong with carpets. There are many sustainable, low VOC options on the marketplace today.
Hardwood
Hardwood is classic, elegant, and easy to keep clean. Plus with the versatility of hardwoods, it will look appropriate at every stage of your child's life. Wood floors are durable, but it's important to note they will wear over time. Especially with the demands of a toddler as they learn to walk and begin playing with toys. Rugs are a surefire way to add a pop of color to the room while protecting the hardwood underneath.
Cork
Cork is anti-allergenic and anti-microbial by nature, making it a great choice for a nursery. It's warmer and softer than wood flooring, which means it will cushion falls and feel comfortable under little feet. Cork is a favorable choice for parents that are looking for an eco-friendly flooring option. It's also an excellent insulator, helping your home stay energy efficient in the process.
Looking for the perfect flooring for your nursery? Stop by today and see all of the options waiting for you.