Cork flooring is a beautiful, environmentally friendly flooring choice that is increasingly being installed into homes.
But the other day, we were asked if cork floors were an ethical product choice.
There is something satisfying when you hear the familiar pop associated with a great bottle of wine or champagne. But lately, you may have found your favorite brands replacing cork stoppers with twist tops or a plastic stopper. The misconception is that cork trees are dying out and are threatened in nature. Yet nothing is further from the truth.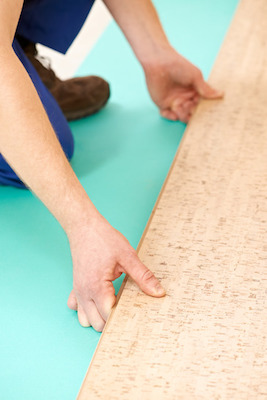 Cork is renewable. Because production of wine stoppers has significantly fallen off, there is a shrinking market of forests cultivated for cork product. Cork extraction is one of the most environmentally friendly harvesting processes in the world. Not a single tree is cut down to get to the cork. Harvesting cork does not destroy the tree since it comes from the bark and not the trunk.
The bark is stripped off in late spring, and it quickly forms new layers of cork for protection. The bark of a cork tree is harvested approximately every 9 to 12 years, depending on environmental conditions. A cork tree can be valuable for 170 years or more.
Which means you can install a cork floor and never worry about the ethics behind it.
Cork is anti-microbial and hypo-allergenic. It contains a substance called suberin that repels insects, fights off mites, germs, mold, and mildew, and is also fire resistant. It also makes a beautiful addition to any room. And because it's soft to the touch, you're going to love it in places where you stand on a regular basis. Like your kitchen.
Cork comes in a variety of styles, patterns, looks and selections. Want to see what's available? Stop by today.