What's the one thing holding you back from installing hardwood flooring throughout? For many, it's the cost of the wood. Traditional hardwood is a costly investment. It's also more difficult to maintain than other flooring choices. As a result, many property owners are looking for more affordable, durable options.
We have some ideas for you. To determine which material is right for your home, take a look at these budget-friendly alternatives.
Bamboo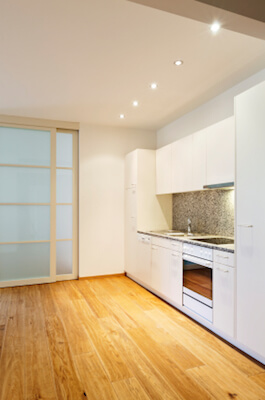 Bamboo is a common flooring choice that still offers beauty and appeal. It's natural textures and characteristics give the appearance of hardwood. And because it's a sustainable material, it can offer eco-friendly characteristics into your home. However, bamboo's structure is similar to hardwood in that it will scratch and dent easily. Cleaning regularly should be used as a way to prevent dirt and debris from accumulating.
Cork
Cork is increasing in popularity and is a completely renewable alternative that is available in both tiles and planks. It has an added benefit of absorbing loud noises and insulating the surroundings. You'll love this cushioned floor if you stand for extended periods of time. However, it does have a low tolerance to humidity and can dent easily under heavy furniture.
Vinyl and Laminate
For those who want the visual appearance of wood without the prices and upkeep to go along with it, synthetic materials such as vinyl and laminate offer a viable alternative. They offer the convenience of a floating floor installation that duplicates the look and feel of real wood. They are also highly resistant to stains and discoloration due to spills, sunlight, or heavy foot traffic. However, their longevity is shorter than hardwoods and will need to be replaced on a more frequent basis.
Tile
With today's technology, tile can create the look and feel of hardwood with all of the durability and ease you come to expect with tile. It's the most versatile flooring choice for every room in your home. And with their protective glazes and sealants, they can withstand water damage and stains. That means you have an unlimited amount of design possibilities combines with durability that will last the test of time. Homeowners also love being able to install them over radiant heating, which can make even the coldest room in your home a little bit warmer even during the cold, winter months.
See a choice that sounds perfect for you? Stop by today and we can show you all of your alternatives and help you make the right selection for you.