With so many options when installing hardwood flooring, why should you select unfinished hardwood flooring?
Prefinished flooring is the perfect option for homeowners who need a quick turnaround with the installation process. Or for homeowners that want an easy, click into place system for creating the look they desire.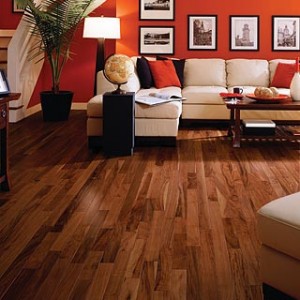 But there are certain benefits to installing unfinished hardwood flooring.
You can customize your unfinished floor
One of the biggest advantages is the flexibility. With raw wood, it's like working with a clean slate. You can choose how your flooring will look, colors and patterns, and design in any way you choose.
In contrast, prefinished flooring comes from the manufacturer with stain and finish already applied. There is no changing it. If you have an idea in mind, it's difficult to create it without destroying the underlying benefits of having a prefinished system in place.
It can give you unlimited options, and it also makes it easier to coordinate and match up to existing floors.
Less risk
With unfinished flooring, there's no risk of conflict when matching up old and new finishes. You can apply virtually any finish without having to worry how it will look with existing flooring. You can also experiment with colors and finishes to achieve the results you desire. It's easier to blend and test out colors to find the perfect look.
Create your own look
If you've always loved the look and beauty of natural grain, there's no better way to let it show it off than with unfinished flooring. You can site sand it to create beveled edges that give it a unique, hand finished and rustic look. You can finish it with very little stain, allowing the natural wood to shine through.
Of course, unfinished flooring does take more time to install, more time to complete the job. But if you have the time necessary to create a unique look for your home, it may be the perfect choice for you. We stock a variety of prefinished and unfinished hardwood flooring to meet every need. Call us today to find the perfect flooring choice for you.