Here in Colorado, we love our hardwood. But in some places throughout the home, hardwood just doesn't make sense. 
Try putting it into your master bathroom; how well does it stand up to the moisture and wet conditions? 
How about in the basement? A damp basement may be the perfect place to warp the hardwood. 
And outside living spaces? Sure, you may be able to use your covered space many months of the year. But hardwood? Nope, there's no way you'd ever consider it.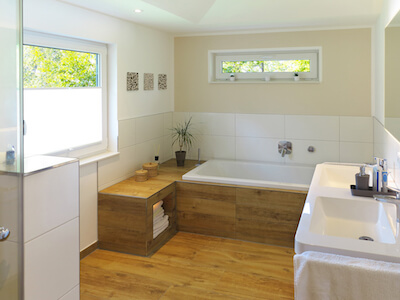 Which is why hardwood plank tile maybe just the thing. 
The first thing to understand about wood plank tile is it comes in many sizes – just like hardwood. Whether you want 24, 30 or 40 inch lengths, there's a wood plank tile for you. Prefer a more standard 6 inch width, or want a more distinct look by moving to 8, 10, even 12 inch width or more? You can find what you're looking for. 
And when it comes to color, you'll find tile mimics traditional hardwood in every way. Whether you want light or dark, a standard oak look or something more unique like reclaimed wood, you'll find it in today's tile choices. You can even mix two shades together to create a look that's all your own. 
What's best, is you can install them anywhere. They can withstand moisture. They can handle outside conditions. They'll quickly become your favorite flooring throughout your home. 
And if you're worried about them feeling a little cold on a winter day, consider radiant heating. Install this heating system before you lay your tile, and you'll find warmth for your feet no matter what the temperature readings are for the day. 
Are you ready to install wood plank tiles in your home?