Are you renovating a home for someone with a disability? Are you making the home accessible for someone in a wheelchair? Hard, smooth surfaces are generally easier for people with mobility issues.
If you're looking for wheelchair-friendly flooring, you have many options available to you. While material is important, it isn't the only thing. Read on to discover the right flooring choice to suit your needs.
What the ADA says about flooring
ADA requirements for public and commercial spaces aren't the same as what you can do with residential spaces. But using their requirements as a guideline can help you make better choices.
From their guidance, it states:
Floor and ground surfaces shall be stable, firm, and slip-resistant.
If you're installing a floor that will be used regularly by someone in a wheelchair, it's a good idea to create flooring that's:
Slip-resistant – flooring should provide adequate traction for the wheels as they move without slipping or skidding underneath. Textured flooring can offer a slip-resistant space even in locations prone to moisture, such as the bathroom.
Smooth – flooring should have some texture for ease of movement. Having too many bumps or transitions can be difficult to navigate over. Pay particular attention to transitions from room to room.
Stable – flooring should be attached securely to the subfloor to prevent movement underneath. It shouldn't dent or compress as the weight of the wheelchair moves over it.
What flooring choices should you consider?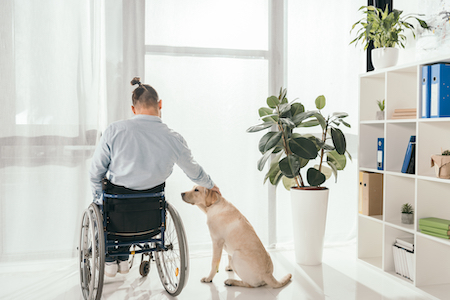 We have a few suggestions for flooring materials that work well for wheelchair movement. While some you may expect, others may be new to you.
Hardwood
Hardwood has been around for centuries for a very good reason: they stand the test of time. No matter what you can dish out, they continue to give back, and look their best.
Hardwood has the added benefit of extending its life by refinishing it. When it's scuffed and worn, simply sand it down. Then reapply new stain and finish, and you'll instantly have updated flooring. You can do this repeatedly, depending on the quality of the wood. This is where it benefits you to pay attention to quality. This will give you the ability to extend the life of your floors.
Plus, they are fairly easy to maintain. An occasional cleaning means wiping away dust and debris, and possibly running over it with a damp mop for bigger messes. Hardwood isn't water-resistant, so don't allow moisture to puddle.
For added traction and keeping your floors looking their best longer, consider what texture you install. A hand-scraped or distressed texture not only adds slip-resistance, but it can stand up to more abuse too.
Tile
Tile provides one of the hardest surfaces available for residential flooring. It provides both traction and a smooth surface area for wheelchairs to move freely about.
However, it is important to pay attention to transitions. If grout lines are too pronounced, it can cause friction as the wheelchair moves over it.
Be sure to install a textured tile that provides a surface area that's easy to maneuver. Certain tiles like ceramic might be too slippery for easy movement. And if a person transfers between a wheelchair and a walker, the surface area may not be conducive for easy movement.
Yet if you work with an associate, we can suggest a variety of options that make this a viable choice. Large tiles placed close together may be perfect for your area.
Luxury vinyl tiles or planks
While traditional vinyl is considered too soft for easy wheelchair movement, today's luxury vinyl tiles or planks may be perfect for your spaces. They are an affordable alternative to hardwood, and provide a hard surface area that's easy to get around on.
Luxury vinyl tiles or planks take on the appearance of the most loved flooring options on the market today. You'll have difficulty telling the difference between luxury vinyl tiles and stone tiles, or luxury vinyl planks and hardwood planks. They look that real.
Yet their hard surface area creates a durable flooring option that works well in all kinds of residential situations. What's more, it's a great choice for places you usually wouldn't put hardwood. Like bathrooms, laundry rooms, and kitchens.
Other things to consider
In general, any type of flooring that provides a cushion to your step won't work well with wheelchairs or even walkers. Many homeowners consider carpet because it's soft. But it's challenging to move around on, and makes it easier to trip and fall.
If you use carpeting in the bedrooms, go with a low-pile option, such as Berber, and stick with a dense pad for added stability. Wheelchairs will also bring in added dirt and debris, so it's a good idea to go with a darker color, possibly patterns that will easily hide stains.
Floor transitions are equally as important as the flooring itself. ADA has special guidelines in place to ensure people can move freely from one area to another.
Vertical height – transitions between flooring types should be kept under ¼".
Beveled height – if a transition is between ¼" and ½", it shall be a beveled transition with a slope not steeper than 1:2.
Ramp height – anything greater than ½" high needs to be ramped.
Before you purchase new flooring, especially if combining it with flooring already in place, ensure you have the proper transition material ready to ensure a safe space.
Finding wheelchair-friendly flooring for your space
Finding the best flooring for wheelchairs is pretty easy to do. With ADA requirements in place, the options available to you have never been as flexible.
Understand what works best for you as you remodel your home. Look for future potential as well as what will work right now.
Remember, this is about aesthetics as well as functionality. And with today's flooring options, you can easily have both.
How can we help you find wheelchair-friendly flooring?