What mental image is conjured up when someone mentions vinyl sheet flooring?
For a lot of people, they remember the yellowing, peeling flooring in their mother's or grandmother's kitchen. With very few choices, they installed the latest look. And because of budgeting, kept it in place for years.
What is vinyl sheet?
Vinyl sheet is a flooring product that is often used in rooms where water-resistance, durability, and maintenance-free living is needed. Think kitchens, bathrooms, and laundry rooms. Of course, it can be used anywhere, but those are often the most popular rooms.
Vinyl sheet comes in roll format, usually between 6 and 12 feet wide. Because of its width, it reduces the number of seams you'll have once it's fully installed in your room. That means there's less risk for water to penetrate through to the subfloor. And with today's technology, vinyl sheet can take on just about any look you demand.
Where should I install vinyl sheet inside my home? 
The reason vinyl sheet is so versatile is because it can be installed just about anywhere you choose. It's the perfect choice below-grade, in basements or ground-level living spaces where moisture and water may be an issue. It's a great choice for main level living areas where high traffic is always a concern. It's also great for upper level living in moisture-prone areas like the bathrooms and laundry rooms. But because of the demands stairs present, vinyl sheet isn't recommended for installation.
Are there other names for vinyl sheet?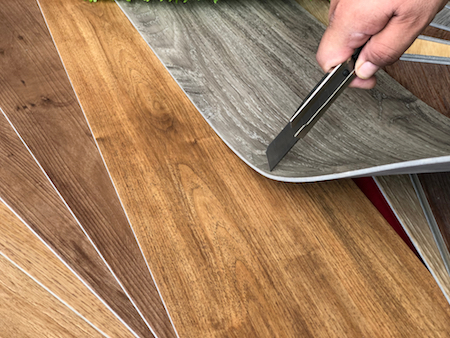 If you do your research and start looking at vinyl flooring options, you'll likely find the same product goes by several different names. While vinyl sheet is something you'll always find, you can also look for:
Luxury vinyl sheet – as you dive into your research, you'll also see it sometimes referred to as LVS. Luxury vinyl is always a step up from the more traditional vinyl sheet product. It's usually thicker, and has a deeper embedded pattern and design. If you're looking for a natural design in vinyl sheet material, look no further than LVS. You'll see realistic wood grains, natural stone patterns, and incredibly crisp prints that make this product look almost as good as the real thing.
Resilient flooring – the definition of resilience is: the ability to spring back into shape, recover quickly from difficulties. And that clearly defines vinyl flooring. This multi-layer product builds in toughness with a bit of give, making it forgivable if you drop something onto the floor. It stands up well to moisture. It offers stain-proof technology to hold up to many things your family can dish out. And if you take good care of it, it can continue to offer these qualities for years.
What are the benefits of vinyl sheet floors?
For a lot of homeowners, they are sold on vinyl sheet floors when learning about their durability and water-resistance, But that isn't the only qualities that make these worth a second look.
Realistic patterns – with today's technology, you can expect vinyl sheets to mimic just about any look you desire. While this is by no means a comprehensive list, you'll find vinyl sheet mimicking:
Traditional hardwood
Weathered wood
Exotic hardwood
Distressed hardwood
Wood plank
Slate
Sandstone
Marble
Granite
Checkerboard pattern
Decorative patterns
If you can dream it, you can find it in vinyl sheet flooring.
Easy maintenance – vinyl sheet is even easier to care for than vinyl tile. Because it's sheet format, you'll have very few seams, which means wiping it clean will be a snap.
Durable – have we mentioned vinyl sheet's durability? It can take all your family can dish out. And if you're comparing it to other similar products like linoleum, you'll be pleasantly surprised at how much more durable vinyl sheet really is.
Waterproof – one of the greatest things vinyl sheet brings to the market is the fact that it's water-resistant. That means you can clean it with a mop and not have to worry about penetration. You don't have to jump at spills, worrying how fast it will start to seep in. And for the small emergencies like an overflowing sink, or a dropped pan of water, you won't need to be concerned about your flooring making it through. Keep in mind that nothing can handle standing water for days at a time. But for everyday household emergencies, vinyl sheet holds up just fine.
Easy to install, easy to replace – while vinyl sheet is more difficult to install than vinyl tile, you can still change up your decor in a day. And because it's budget friendly, you won't break the bank when you're ready for a change.
How do you care for vinyl sheet flooring? 
The good news is vinyl sheet flooring is one of the easiest to clean and maintain.
Wipe up spills – as with all flooring, timing is everything. When you see a spill, clean it up as quickly as you can. While vinyl does provide a protective coating to help ward off damage from standing water, it isn't designed to withstand a flood. If it's submerged in water for extended time periods, it can and will be damaged. However, very few floorings make it as easy to clean as vinyl sheet. Simply wipe away most spills with a clean cloth – it's that easy.
Weekly deeper cleanings – while you should always wipe away spills immediately, every week or so, you should do a more in-depth cleaning across the floor. Use a dry duster to pick up dirt and debris. A vacuum works too; just be sure it's set to hard flooring. Use a natural cleaner to avoid damaging the finish. Water and vinegar are often all you need to keep your floors sparkling clean. You can also create a paste of baking soda to help you remove tough stains. Check with manufacturer's guidelines before using any chemical products, as some cleaners can null and void the warranty.
Other tips – to improve and protect the surface of your vinyl sheet flooring, be sure to use a doormat at every entrance to catch dirt before it enters. This is a good tip, no matter what flooring choice you've installed.
Be sure to close blinds to avoid direct sunlight from hitting your vinyl floors. Too much sun can cause fading over time.
Avoid placing heavy furniture directly onto the surface of your vinyl flooring. Instead, use flooring supports and protectors to prevent pressurized points from digging into the floor.
Use runways and other protectors when moving furniture into place. Vinyl sheet will scratch, especially if you drag heavy objects across.
Is vinyl sheet flooring the right choice for you?
There are so many reasons to love vinyl sheet, and use it to make any room in your home a little brighter.
What questions can we answer for you about vinyl sheet flooring?