Depending on the size of your room, chances are you'll have a seam somewhere in your room after you install your new vinyl floors. When seams are handled in the proper way, you'll have a floor that looks great and lasts a long time without any problems. Yet if you've ever had vinyl floors where the seam begins to pull back and fray, you know the problems that can quickly arise if not handled correctly.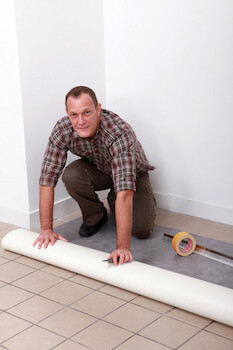 Like any flooring, there is a proper way to install and maintain your new vinyl flooring for the longest life possible.
How wide is vinyl flooring?
The standard width of a roll of vinyl flooring is 12 feet. It comes on a roll, so there is no set length. If your room is wider than 12 feet, the room will be pieced together to create one seamless look.
How do you conceal vinyl flooring upon installation?
When vinyl flooring is laid, the best way to conceal seams is by treating them with a seam coater. This creates a virtually seamless floor and prevents the seams from opening through wear.
Where should the vinyl seems be in a room?
When it comes to piecing together vinyl flooring, there is no right or wrong answer. In most cases the seam will lie in a spot agreed upon between the installer and the homeowner. Try to seam the pieces of the vinyl flooring in a low traffic area. It should never lie where furniture will be moved across it continuously, such as under a kitchen table.
Do I need extra vinyl if it requires piecing together?
It depends on the pattern of your flooring. In order to match patterns at the seams, it may require an additional amount of vinyl flooring at the time of purchase. Talk with your flooring consultant to make sure you have enough for finishing.
Do vinyl flooring seams require extra maintenance?
In most cases, no. Vinyl is a low maintenance flooring, that requires regular sweeping, vacuuming, and a damp mop to remove stains and spills. However, you may find over time the edges of the seam coming loose. If you have an open seam, don't procrastinate. Repair it quickly to maintain the look of your vinyl flooring longer. You can do so by using a seam sealing kit, apply adhesive to the edge of the seam, and press it back into place. Remember, the faster you fix the problem, the less likely it will have of escalating into a larger problem overall.
---
About Pro Flooring Brokers
We are a one stop shop for all of your flooring and installation needs. Located in Denver, CO, we have been family owned and operated for over 30 years! Our passion is your project.
Have a Flooring Project in the Denver Area?
Commercial and residential customers love our huge selection of carpet, hardwood, porcelain tile, natural stone, luxury vinyl tile/planks, laminate flooring, and sheet vinyl flooring. Check out our products to learn more. Visit our showroom, meet our team, and let's start your flooring project together. We offer:
Complimentary on-site measuring
Flooring estimates based on floor plans or blueprints
Installations performed by trained and qualified installers
Full one-year guarantee on all workmanship (in addition to manufacturer's warranty)
Flooring and installation are made easy with the PRO! Flooring Brokers. Contact us, visit our showroom, or call today at 303.788.0113. We look forward to helping you.