Want to know the hardest working tile in America? The tile that is used in more places, in more ways?
From the moment ceramic subway tiles found their way in New York City's train stations in the early 1900s, they have captured the attention of homeowners everywhere,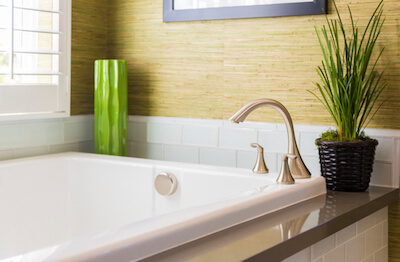 inspiring designs in bathrooms, kitchens, and more. They are easy to clean, stain resistant, and light reflective; these 3 by 6 inch glazed white rectangles were everything people wanted them to be in the highest traffic areas of the home.
But now, over a century later, subway tiles are no longer white rectangles. They still come in the infamous rectangular shape, but even the sizes have changed. Choose a traditional 3 by 6 inch tile, or change it up by choosing a 4 by 8 inch plank, or a 1 by 2 inch mosaic. Choose just about any color of the rainbow, as well as finding a finish that matches any décor.
Depending on the size and the patterns, subway tiles often come attached to a mesh backing, making installation much easier than installing them one at a time. Spacing is everything. If you do have to space them one at a time, or when matching mesh sheets together, be sure to use spacers on the edges of individual tiles. Not only does this save time but money as well. It eliminates re-dos, and ensures you have a clean design every time.
Installing subway tile in showers is very popular because of the way the tiles brighten the space and soften the lighting. Subway tiles look shiny and clean easily, making them the perfect choice for busy shower areas. And depending on the color and finish, they brighten up with any style of hardware, from silver, chrome, gold or even brushed nickel.
While shower stalls are a common place to use subway tiles, they are by now means the only place they provide their classic style. Try using them as a backsplash above a vanity. Or as a backsplash in your kitchen. They can add style to any accent wall – how about behind a bar, in a gameroom, or even in your wine cellar? With so many colors and styles, they are the perfect compliment to whatever your décor.
To see some of the ways our customers have used subway tiles in the past, stop by today and let us give you the perfect idea for your next renovation project.