Want to have different types of flooring installed in different spaces of your home? No problem. The look you create will be uniquely your own.
However, it is important that you transition the flooring from room to room to give your home a seamless look.
There are different types of transition strips, with different styles, prices, and options available depending on which you choose.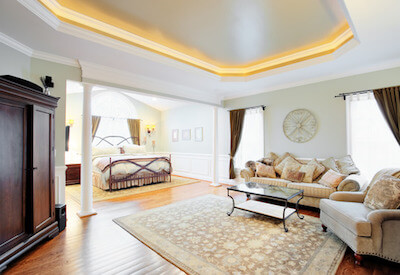 A T-bar is a metal transition strip of aluminum or lightweight steel. You'll also find them in vinyl, composite, or wood too. They get their name because of their T shape, and are used to transition from two hard surfaces of the same height.
A carpet transition strip is used between carpeting and hard flooring because the materials are not the same height. Carpet transition strips are smooth and catch your eye to let you know there is a change in flooring coming. Teeth on the carpet side of the transition grip help hold the material in place.
End bar transition strips are used between hardwood and laminate flooring where it meets a door, step, or another flooring type. Most hardwood transition strips are made of wood or laminate to match the hardwood flooring. They are notched on one side to cover the edge of the flooring. The other side is bullnose to gently transition into the other flooring.
Stair nosing gives your stairs a finished appearance while protecting the front edge of each tread. They are typically made of wood or metal, and create a 90 degree turn downward to ensure your safety and footing.
Quarter round transition strips cover the expansion gap at the perimeter of the wood flooring if the gap isn't covered by baseboard trim.
Baseboard transitions give the perimeter of a room a finished look and cover any expansion gaps required during installation. Quality baseboard is made from solid hardwood, though you'll find many different types depending on your budget and needs.
You'll find transition strips made from a variety of materials – rubber, metal, vinyl, laminate, and hardwood. It all depends on the look you hope to accomplish.
Have a question about transitions?