Here in Colorado, we love our outdoors. If you ask some people, they'd prefer to find a way to live outdoors for as long as possible. What's a little snow? That only means ski season is here. 
If you want to stay outdoors longer, maybe it's time to remodel your home and increase the outdoor living space. Skip the cement patio with a charcoal grill. It's time to go BIG and extend the kitchen into something that makes your guests say: wow.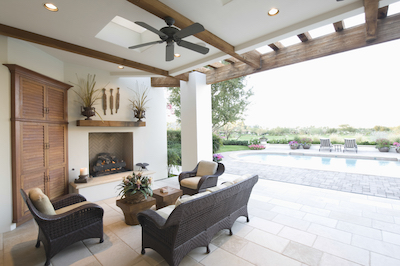 Of course, when you create an extended living space and add a kitchen outdoors, not every flooring will do. Especially here in Colorado where it can snow one day and set heat records the next, it's important to have the right tile for outdoor use in place. 
It should take cold and snow without cracking.
It should take heat and water without being slippery.
It should look beautiful, and transition well from indoors to out.
When you find a tile that can do all of that, you know you have a winner. 
What to Look for with Tile for Outdoor Use
There are several characteristics for any flooring you choose that transitions from outside to inside, and for flooring that will frequently see moisture and messes. 
Durability
When any flooring has to stand up all that Colorado weather can dish out, the first quality to look for is durability. It should hold up to intense sun without fading. It should stand up against rain and not provide a slippery surface. It should handle snow and sleet without cracking or degrading. It should handle moisture and damp conditions without changing its structure. It should also be easy to clean and scrub. Can you wash away the ketchup stain from the barbecue? Or how about the red wine from Saturday night's party? 
Porosity
The weather here in Colorado is anything but predictable. It rains. It snows. It freezes. It thaws. When you install tiles for outdoor use, be sure they can handle all of those changes. If tiles are too porous, they will absorb water. As it freezes and thaws, the tiles will crack and break. They can even pull away from one another and create an uneven surface area. 
Hardness
For the same reasons your outdoor tiles should be well suited for moisture, they should also be hard enough to stand up to the abuse. If they are too soft, they won't stand up to changes in weather. Or more cleaning as you move furniture and plants from here to there. And what happens if you accidentally drop a plate or a pan? Or a tree topples over in a freak storm? 
Slip-resistant
While creating a slip-resistant surface is important in any room in your home where water and accidents can go hand in hand, it's even more important in outdoor rooms. It isn't a matter of IF; it's a matter of WHEN. The reason most bathrooms have non-slip surfaces is that they use small tiles. Small tiles mean more grout, and grout provides traction. But outside, small tiles don't make sense. You'll use larger tiles to fill the space. And if they don't have a slightly abrasive surface, your risk of falling rises. 
What Types of Tile for Outdoor Use is Best
It's hard not to fall in love with natural stone tile. It's beautiful as well as functional. They come in all sizes and shapes. They also come in a variety of colors and finishes, and offer slip-resistance or even a well-polished look. If you're trying to match and continue your indoor flooring choice, outside, this is the way to go. Consider:
Granite – the hardest and least porous of all natural stones. It holds up well no matter what the Colorado weather dishes out. 
Marble – it's as beautiful as it is durable. Slightly softer than granite, it will need sealing to continue to function at its best. But it's difficult to find a more appealing surface with its many color variations with its veining. 
Slate – we love it because no two tiles are ever alike. It's easier to mix and match because the tiles will change from grays and greens, to browns and tans. You'll love the effect. 
Limestone – another light colored stone option that brings intrigue to your flooring. It's very porous and will need regular sealing, but its finish can stand the test of time. 
Travertine – this product contains lime deposits that adds texture as well as color variance. It's very porous and needs to be sealed. But the color will make you say: wow. 
Of course, natural stone isn't your only option. How about porcelain tile?
Porcelain tiles come in a wide variety of colors, styles, patterns, and textures. Porcelain is made from clay, fired at high temperatures to make them very hard, durable, and non-porous. They can resemble natural stone, brick, rock, or even wood. But they handle so much better than the real thing.
That's one of the best reasons to consider porcelain tiles. Depending on what your indoor living space looks like, it's now possible to carry that look outside as well.
But How Do I Choose?
We know selecting the perfect tile for outdoor use will be one of your toughest choices. There's so many selections – thousands of choices right here on our showroom floor. 
How do you know what's best?
How do you know what will handle well over time?
How do you know what you'll love for years to come?
That's where our advice comes into play. If you want to create a luxurious and durable outdoor living space you use as much as your kitchen, you can't make a better choice then to select tile. And as long as you pay attention to durability and maintenance, you're going to love your final selection. Just tell us your plans, and we'll help you make the right choice for your situation. 
Larger tiles – at least 12×12 or larger – create particularly impressive results. They can create the impression of a larger space. And depending on the color you select, and how well it matches your inside space, they can help create a seamless look. 
Sit back and imagine all the fun you'll have with your new outdoor space. The parties you'll plan with the neighbors. The dinners you'll share with friends. 
Why wait to create your dream kitchen "someday." Why not create it today?
It starts with an idea and a plan. And one of the best places to start is at the bottom – with your flooring. We can help you find the perfect tile for any outdoor space.