One of the easiest rooms in your home to remodel is the bathroom. Start with the half bath off your main living area. With a little bit of work and a splash of creativity and style, you can have a beautiful look in just a few days.
Then once you have your creative juices flowing, you'll have the resourcefulness to tackle bigger projects – like the master bath spa you've been dreaming about, or the basement bathroom that needs a complete makeover from top to bottom.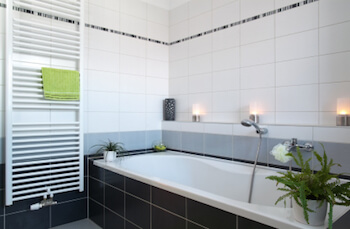 While bathroom remodels may be easy to accomplish in just a few days, the one thing that can hold you back is the decision on the best materials for the job. With so many options available to you – from flooring choices on up – where do you start?
How about with one of the top trends in a bathroom remodel – tile?
Tiling has always been one of the perfect choices for bathrooms because of its durability, its classic good looks, its easy to maintain qualities, and its budget friendly pricing. Why not give these trends a try?
Color
Neutral tiles may be the rage right now, but they're anything but boring. Once you have tiling in place, you can continue to accent your bathroom with paint and décor. But it all starts with the tiles. Think beiges and tans. Or maybe a few shades of grey. Add in some white for contrast and you'll have a color palette you can work with for years.
Don't like neutrals? Want to go big and bold? You'll find plenty of options with every color of the rainbow as well. When using color, be sure to mix and match for dramatic effects. Also, remember darker colors tend to make space look smaller, while lighter colors tend to open a room up. While the final choice is purely personal, if you want some design tips, just ask your flooring consultant for a few tips.
Size
No matter how you've previously defined tiles in the past, you're sure to find something new when you begin your hunt for the perfect tile. One of my favorite tiles right now are thin strips of marble; when used in shower stalls or as backsplashes over your counter space, it can create a dramatic look and feel. But if you don't want to go small, no problem, go big instead. You'll find tiny tiles perfect for a mosaic design, all the way up to large stone tile perfect for a smooth and clean look for your bathroom floors.
Shape
If tile has always been synonymous with square in your mind in the past, its time for a change. Today's tiles come in all kinds of sizes and shapes. You'll love the traditional square shapes that come in every size imaginable. But you'll also find yourself leaning towards modern updates that make it refreshing and new. How about classic circles that will give your bathroom pizazz? Or look for a classic hex design, when mixed with different colors can create a dramatic pattern throughout your bathroom.
Material
Think porcelain. Think marble. Think ceramic. Think glass. Today's tiles are made from a variety of products. But more importantly, they are made to provide you with durability, a beautiful look at amazing prices.
Ready to get started on your bathroom remodeling project? Stop by today and find the perfect tiles for you.