All you have to do is drive around your neighborhood, and you'll see the US home improvement industry is more robust than it's been in years.
Do you fall into the category of home remodelers? People have upgraded and downsized their way to finding their perfect homes. Yet even a "perfect" home sometimes needs a little work.
Statistics show home remodeling is almost a half-billion-dollar industry. And people remodel for a variety of reasons:
Finally, have the means to do so
Customize a recently purchased home
Repairing damage due to age
Lifestyle changes
Selling a home and increasing its value
Whatever your reason, you can't go wrong with upgrading flooring. It's one of the first things people notice as they enter a home. It's also one of the renovation items that's the most difficult to pinpoint and make decisions on.
With so many options, where do you start? You can't go wrong with tile. Still, homeowners often have trouble deciding which to invest in: stone tile vs ceramic tile. What's the difference? Which should you choose?
What is natural stone tile? 
Natural stone tile has been used in homes for centuries. That's because it's an attractive, durable flooring material that can last for a very long time.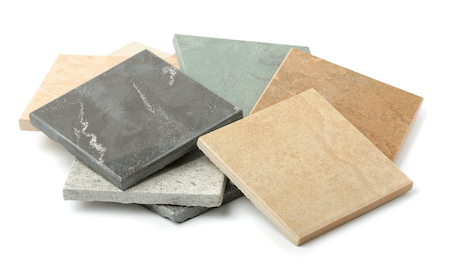 Natural stone tile is quarried and sliced into tiles that can be used inside your home. You'll find natural stone tile from a lot of resources:
Slate
Marble
Limestone
Travertine
Granite
Each of these is produced from sedimentary or metamorphic rock that has undergone years of heat and compression to get to where they are today.
Natural stone tile is always a great choice if you're looking for a natural look throughout your home.
Slate and granite are perfect for entryways and kitchens or other high-traffic areas. While it may seem like stone can take all sorts of abuse, it's still a good idea to have granite or slate flooring sealed. It keeps the stone in better condition and prevents grout lines from absorbing stains and spills.
What is ceramic tile?
Ceramic tile and porcelain tile are often used interchangeably. But the primary differences between the two include composition and the manufacturing process. Both are made from clay, but porcelain uses finer clay packed at higher pressures and baked at higher temperatures. The main difference is the rate of water they absorb, with porcelain tiles absorbing more.
Because ceramic tile is crafted through manufacturing processes, you'll find more sizes, shapes, colors, and patterns. Unlike stone tiles, porcelain tiles can be installed inside or out. That's why some people move to ceramic or porcelain tiles and choose styles that closely imitate natural stone – it gives you the looks without some qualities that some stone tiles may have. Marble, for example, can be slippery when wet. Choosing porcelain tiles that mimic marble will give you the same great looks with slip-resistance features.
With stone tile, what you see is what you get. Ceramic tile is crafted for different purposes and different durability rankings.
The Porcelain Enamel Institute (PEI) gives porcelain tiles a rating of 1 to 5. This alerts you to durability and how much foot traffic tiles can handle.
PEI rating 1 – it's decorative tile not used for flooring.
PEI rating 2 – these can be used on walls or in low-traffic rooms, such as a guest bath.
PEI rating 3 – these are great tiles for any residential situation. They are used for countertops, walls, and flooring.
PEI rating 4 – this can withstand heavy traffic, and is suitable in all residential situations. It can also be used in light commercial applications.
PEI rating 5 – is the highest rating, and is suitable for use in all settings, including commercial and industrial.
Stone tile vs ceramic tile – which should you choose? 
Like all home improvement projects, there isn't a correct answer.
We often suggest that our customers spend time picturing the outcome. What look do you have in mind? What purpose suits your lifestyle best?
Both natural stone and ceramic or porcelain tiles offer many benefits. You can make either one fit your lifestyle, and be happy with the results for many years.
However, both offer a variety of benefits that make both perfect for any home remodeling project.
Ceramic tile is budget-friendly. You'll find selections at every price point designed to meet any budget you have set.
Ceramic tile is also easy to clean. With its smooth surface areas, you'll find occasional sweeping and mopping keeps it looking its best.
Natural stone provides a dramatic look. Realtors will often tell you it can lead to a boost in home market value.
Natural stone comes with more customized looks. When stone is sawed down to size and slipped into place, it often looks more natural. You have to be more careful with ceramic tile patterns.
While some flooring choices may work as DIY projects, don't be swayed into thinking tile is one of them. Whether you choose stone or ceramic, it's better left to the pros.
Stone or ceramic – get ready for your project
Laying tile is a bit more complex than other flooring projects. Here's what you can expect.
Once the installation begins, a tile installer will lay out the tiles to approximate the final design. This "dry layout" ensures you're happy with the look before installation.
When you give the go-ahead, they will lay a mortar-like substance on the floor, working in small subsections to ensure it doesn't dry out.
The tile will be placed using tile spacers to create even grout lines.
With the majority of the tile in place, any remaining tiles will be cut and laid into place. Finishing work can be tedious as they cut and place tiles around cabinet bases, into corners, and along baseboards.
The mortar will dry before the grout is spread into place. Sealants will also be added if necessary. It must have a chance to dry for 24 hours before you walk or place furniture back on it.
Are you ready for tile flooring? 
No matter which you choose, stone or ceramic tile is always a great choice.
If either is on your list of potential flooring materials, stop by today to see our entire selection. We can help you make a choice you'll love for years to come.
How can we help select natural or ceramic tile?