Did you overestimate for your DIY stone or wood flooring project? Do you have enough extra materials that you're wondering what to use it for?
While it's great to keep a few extra pieces of stone or wood planks for damaged areas of your flooring, any more isn't necessary. Fortunately, you don't have to leave it stored in your basement collecting dust. There are many uses you can use it for.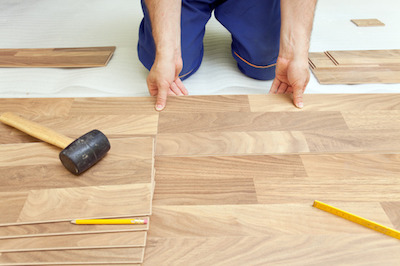 Create an accent wall
When most people think of accent walls, they tend to think of paint or wallpaper. They use a different color or pattern to add "wow" to the decor of the room. 
Instead of paint, consider adding wood or stone instead. Wood can bring out a rustic flair to any room in your home. Add wood planks behind your bed. Or continue the look of stone from the floor into the shower stall in your master bath retreat. You can also add uniqueness to a mudroom or laundry room – it's a great way to carry your theme from room to room. 
Just be aware that not all materials work in every room. You wouldn't want to use wood planks on a kitchen wall where they might be damaged from splatters and grease. 
Add curb appeal
Do you have too much stone from a recent upgrade to your outside walls? Or from adding an outdoor kitchen in the backyard? Why not continue the look to your front yard and add to your curb appeal too. 
By stacking stones, you can create planter boxes, mailboxes, even lamp posts that accentuate your landscaping. You can get lots of ideas online. And when you find looks you love, head over to Pinterest and create a pinboard with your favorites. Then you'll have inspiration any time you have a few extra hours on your weekends. 
Add household decor
Depending on how much wood and stone you have left, you can continue your quest for making individualized and personalized decor for every room in your home. 
Extra stones or pebbles from a shower install can be transformed to knobs or pulls on your vanity. 
Wood can be transformed into wall hangings or even small pieces of furniture. 
Want to make a grand entrance? Try combining stone and wood for an original look to your entryway. 
The possibilities are endless when you do a little investigating online. You'll quickly find many ideas to use all of your leftover materials. And maybe even a few ideas where you'll need a little bit more.