What's the one fear of every homeowner when they think about installing new carpet?
Stains.
They envision a guest in their home, dropping a glass of red wine. Or a child tipping over a juice box filled with purple liquid. Or maybe a dog running through with muddy paws.
Suddenly, your new carpet doesn't look so new anymore. There's a distinct color shift in the area you've scrubbed and scrubbed.
That can be disheartening, especially if your carpet is only a few weeks old. Now you have to live with it for years, knowing it isn't the right color in certain spots in the room.
That's where stain resistant carpet comes into play. But what does that really mean? Do all carpets have stain resistance? What should you look for? What's important?
We'll get into all of that and more. But first, know one thing: the most important part of stain resistance is selecting the right carpet material. Get that right, and you'll love your carpet for years.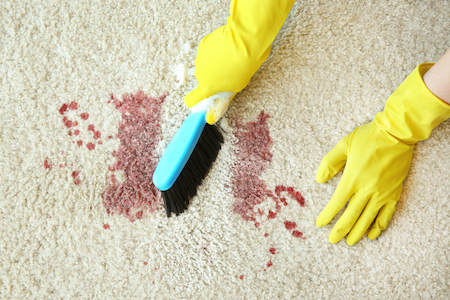 Let's talk about fibers.
Nylon carpet
One of the most popular choices for homes is nylon carpet. That's because nylon sets the bar for stain resistance. While nylon is humanmade, and isn't a natural fiber, it is naturally stain resistant. It's made with a stain resistant coating that allows spills and stains to be lifted from the carpet with little more than soap and water.
Nylon is also soft to the touch, making it a perfect choice for the family home. If you have kids that play on the floor, pets that sleep by your feet, and an active household that is always working and playing together, nylon carpet offers a world of benefits. Nylon is one of the most durable synthetic materials available, making it a great choice in every room, including hallways and high traffic areas that take a lot of abuse.
https://pro-flooring.com/whats-that-smell-it-may-be-carpet-mold/
Polyester and Olefin carpet
Polyester and Olefin are technically two distinct types of carpet, yet they offer similar stain resistance. Both offer oil-based materials that do an excellent job at repelling spills. Yet because they are oil-based, that makes both types of carpet attract oil easier.
Why are these types of carpeting popular? Price. They are at the lower end of the spectrum, making them a suitable choice in many circumstances.
Oils enter your home most often on the bottom of your shoes. It sticks as you walk across asphalt, or can even slough off from your skin. If you have an oil-based carpet, one of the first things you should do is make your home a "no shoe" zone. You should also use this type of carpet in areas where you won't be lying on the floor and spending hours at a time. Dining rooms? Yes. Family rooms? There might be a better choice.
Wool carpet
Up until this point, we have talked about lab-created materials that offer stain resistance. But there's one natural fiber you can consider as well: wool. Wool provides a certain level of stain resistance against many of the most common spills you'll have in your home. Wool also offers good resistance to oils. It's highly durable and ultra soft. Think of wool as a luxury you bring into your home.
This is why many homeowners shy away from wool. Wool comes with a high-end price tag that scares many people away. Keep in mind that wool carpet is also one of the longest lasting, and is naturally sustainable. For some, it's worth the investment.
What is stain resistant carpet?
So what exactly is stain resistant carpet? It's easy to assume that with any stain resistant carpet, you'll get a product that resists the stains you're most likely to create inside your home.
No material is one-hundred percent effective against stains. But there are ways of producing a product that repels what you drop onto it, as well as makes it easier to clean.
Stain resistance applies to the fiber itself. If the fibers don't soak up the properties of the spill, it's less likely to show the results after you clean it up. If it retains its original appearance after cleanup, it's less likely to be ruined by the spill.
If this happens over and over, with every spill that occurs, you're less likely to need to replace your carpets. Or at least push it out for as long as possible, giving you the looks you demand while spreading out the costs.
The most popular carpet fibers used today are nylon, a synthetic, that is made on the manufacturers' floor. It's made up of a plastic prized for its smooth texture and waterproof qualities. It also has resistance to things like mold and insects.
During production, carpet manufacturers add an extra step of adding a chemical coating. This adds protection against the most common household items being able to penetrate through the coating and down into the fibers.
Stain resistance products are proprietary to different manufacturers.
Stainmaster – Stainmaster is one of the most recognizable stain resistant carpet brands. They have a wide variety of products, styles, and textures, and provide one of the best warranties in the industry.
SmartStrand – SmartStrand is another product line produced by Mohawk that offers durability and stain resistance, with pet protection, and a strong warranty.
These are just two of the different types of stain resistant carpet out in the market today. You'll find different manufacturers create their own products, and market them in different ways. It's important to compare the benefits they offer as well as how inclusive the warranties are. We can help you compare products and offer you advice when it comes to making a selection for your home.
Which stain resistant carpet is right for you?
Without knowing much about your flooring project, it's difficult to suggest which option is the right choice for your home.
Before you settle, spend some time listing out your requirements. What do you expect from your carpet now and years into the future?
Then stop by our store. We can show you options, educate you on what qualities different manufacturers bring, and help you settle in on the right stain resistant carpet for your needs.
https://pro-flooring.com/here-are-the-biggest-mistakes-when-buying-new-carpet/
In the end, it's all about helping you make the right choice, one you can live with and be happy about for years.