Have you ever walked into a room and cringed at the sound? Every footstep you take, it echoes throughout the room.
That's one of the biggest reasons people are leery of moving to certain types of flooring. They've heard horror stories about laminate, for example, and won't even consider it as an option.
While your flooring choice does have some impact on how soundproof your room will be, a lot of it stems from how the flooring was installed.
Homes are meant to be lived in. And if you're overly cautious about how you walk around a room, or what activities you partake in just to avoid creating sounds, it's time to consider other options.
Understanding noise
Inside a home, there are two different types of sound that impact your lifestyle: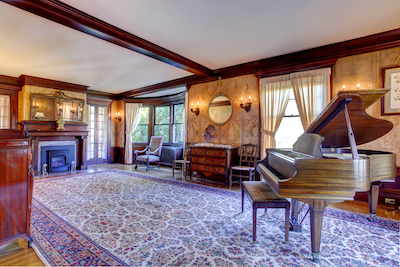 Footfall noise – this happens with every step you take. It's the noise you make from walking across the floor. It also applies to the way appliances or other machinery connects and moves on the floor. It's sounds coming from floor joists and bad connections. It's the energy used with everything that moves across the floor.
Airborne noise – these are sounds that come from other sources inside your home. The television. People talking. Music. It's the way the sound vibrates throughout the room, and flows from place to place.
The quieter you want your home to be, the more focus needs to be placed on both types of soundproofing. It starts with the floor – an absorbing underlayment can help reduce both kinds of noise.
It's not just the flooring you choose – it's the underlayment too
Where a lot of homeowners go astray when budgeting for new flooring is thinking that the entire cost is quoted with the material they select. If you've ever gone to your local big box store, you might be pleasantly surprised to see popular flooring choices for a few dollars a square foot. This is doable, you might think. But what they aren't posting is all the different things you should also be considering.
Hardwood and laminate floors
These can be challenging to soundproof because they are by default, hard floors. Any hard surface will amplify footfall noise and airborne noise. To reduce the sounds vibrating throughout your room, it starts with the right underlayment to help deaden the noise. An underlayment helps create a gap between the subfloor and the actual hardwood or laminate you install. Because the hardwood or laminate is "floating" above the subfloor, it takes the pressure off any force that would apply to the construction of the home.
Ceramic tile
Ceramic tile is often similar to hardwood in the way it amplifies noise. The key to reducing noise is in the underlayment. However, it's crucial to choose one that can be placed under mortar and will work well with stone and tile. It needs to work at both soundproofing as well as help prevent cracking, which is always an issue if ceramic tile isn't laid into place without gaps underneath.
Carpet
Carpet is one of the easiest flooring choices to soundproof because of the fibers themselves. Its soft, dense material will minimize both footfall and airborne sounds. But even if you choose to carpet for your home, there are things you can do to reduce sounds even more. For carpet, it starts with the pad. A thick, high quality pad softens every step you take, and reduces the noise that comes up from the subfloor and out into your room.
If you want to further increase the soundproofing, you can even install an underlayment below the padding to soften noises even further. This can be a great option for people working from home. If you've started podcasting, or training via Zoom, this may be the right choice for you to create a quiet environment.
Are you remodeling or soundproofing existing floors? 
If you're remodeling, changing out floors and adding new walls, you have more options than if you're dealing with an existing floor. Lots of products and materials are now available to help you create a more silent atmosphere.
Damping compounds can be applied between drywall, plywood, and other materials in your walls and floors. It's a great way to reduce the sounds of both footfall and airborne noises.
Floor joist isolators are made from plastic or foam and can be installed right over the floor joists to help lessen the impact of noises.
Resilient channels will also help reduce noise by placing spacers between drywall and floor joists. Working similarly to the isolators, they are used to soften the impact of wood connections, and lessen the likelihood they'll squeak and make noises.
Other things you can do to soundproof your home
There are only so many things you can do to limit the amount of sound vibrating as you walk across your flooring. If you live in a multiple family unit – a condo or a townhome, for example – in addition to the ambient noise you make inside your home, you'll also be dealing with noise from your neighbors.
Sound is created from everything you do. If you modify other things in your room, you can create a sound barrier between rooms, and even between units.
An empty room will be louder than one filled with decor. Pay attention to the type of furniture you bring in to fill up your space. Upholstered furniture will help absorb sound – the fibers work similarly to carpeting. Add throw pillows to add a splash of color as well as muffle sounds. And instead of selecting glass or wood tables, why not use upholstered ottomans instead? Place them against a wall, and it will further reduce noise.
Don't leave walls bare as this will also increase the level of noise. Add drapery to your windows, and add photographs or artwork to the walls. Many people like clean lines of plantation shutters, or blinds for blocking out light. But it's fabric-based window coverings that will provide you insulation from both noise and weather elements. Don't forget to cover all windows and doors, including large patio doors or windows that are high up near your vaulted ceilings. They all add into the amount of sound vibrating through each of your rooms.
Trying to soundproof your home, and looking for the best flooring to suit your needs? Stop by today, and we'll help you make the right choice for your home.