Have you come to the conclusion you want hardwood throughout your home? It's a popular choice here in Colorado.
But making the decision to install hardwood is only the first step in the process. You have choices. And today's hardwood isn't like what your parents had installed.
Before you move forward, take the time to discover the differences between solid, engineered, or laminate hardwood. Discover which is best for your unique situation. Install the right choice and you'll be happy with your flooring for years.
https://pro-flooring.com/its-the-best-season-to-install-new-hardwood-flooring/
Solid Hardwood
Solid hardwood has a nice ring to it, doesn't it? It's solid. And that's what attracts so many homeowners to it.
Solid hardwood floors are made from a solid piece of hardwood. The entire plank is cut from the tree, meaning the flooring used is natural to the core.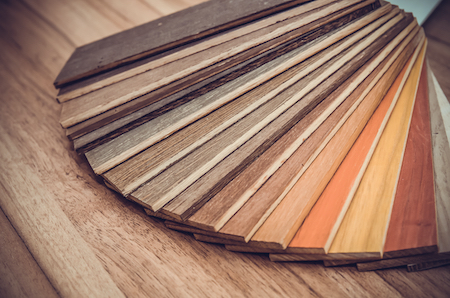 In most cases, hardwood flooring manufacturers create these planks to be three-quarters of an inch thick. To give it strength, it must be nailed down to a wood subfloor. That means if your home was built on a slab or concrete base, solid hardwood isn't the choice for you.
The biggest benefit to solid hardwood flooring is it's the real thing. If you want natural beauty, you'll never go wrong with a hardwood floor. Because it's solid, it's easier to install and maintain for years to come. It's one of the easiest flooring choices to sand and refinish. Plus, you can do it again and again, meaning with the right solid hardwood floor in place, it can last you for decades to come.
While it is easier to maintain and repair, hardwood is also softer than the two other types of hardwood. If you drop a heavy object on it, it can easily damage the floor. If you spill water on it and leave it for any length of time, it can swell and expand, causing warping and gapping. For this reason, you can't use solid hardwood in moisture-prone places such as bathrooms or basements.
You'll also find solid hardwood to have the largest price tag – it takes a lot to create solid hardwood planks.
Engineered Hardwood
Did the thought of solid hardwood flooring just take a step down from your desired flooring choice? Never fear, maybe engineered hardwood is for you.
Engineered hardwood is built in layers, with only the top layer containing real hardwood. The inner layers are built from plywood, fiberboard, and in some cases hardwood. The top layer is usually a hardwood veneer, but here's where you create your style. This hardwood layer can be made from whatever hardwood material you desire – cherry, maple, oak.
Because engineered hardwood is made from several layers of materials, it has more flexibility in how it's installed. If you have a slab subfloor or one made of concrete, engineered can be glued down.
But one of the best reasons homeowners turn to engineered wood is because it does better in moisture. If you've seen hardwood below-grade, in basements throughout the Front Range, chances are it's engineered. That's because it can stand up to dampness and perform quite well. It's also a great addition to install over radiant heating – making it an even better choice in your finished basement.
https://pro-flooring.com/yes-you-can-have-wood-floors-in-your-bathroom/
You won't have to worry about this buckling under pressure. And it costs less than solid hardwood, giving it an advantage in certain situations throughout your home.
Laminate Hardwood
Laminate flooring is one of the easiest to install. It comes in a tongue and groove system that makes it easy to click into place. Laminate contains a resin-based surface that is laminated to a wood-based core. It contains several layers of fiberboard and pressboard, installed over a protective backing. This isn't a hardwood surface, instead, it's created with a realistic photograph mimicking hardwood's good looks. With today's technology, it is very realistic.
Laminate is, in general, only one-third of an inch thick. It can easily be laid into place over other flooring options. That makes it a breeze for transitioning from one room to another if you aren't using the same choices from room to room.
The biggest benefit is the cost. Installing laminate flooring can be as much as 50 percent less than solid hardwood. And for some homeowners, that is its biggest draw.
It's also one of the hardest choices, being more durable and resistant to scratches because of its pressed wood materials.
However, laminate does not do well with moisture. This isn't a product to install in your laundry room or bathroom. Any moisture can cause the layers to break apart, peel, and wear down.
Another issue with laminate is peaking. This is where two planks move together and create a raised surface area. Laminate is a popular DIY project. But if you install it incorrectly, if the glue isn't put properly into place, or if there isn't enough room between the flooring edges, peaking can occur.
So, what's your choice?
With today's technology, any of the three have their place in a modern home. It starts by asking some questions about your expectations, and making the decision based on your needs.
Where will I be installing my new floors?
Does one hardwood choice make sense over the other?
How durable do I expect my flooring to be?
How much maintenance am I willing to give it?
Am I planning on selling my home soon?
Do I plan to live in my home for decades to come?
With just a little planning, you can start to see one hardwood choice be better than another.
https://pro-flooring.com/the-easiest-ways-to-save-money-on-your-hardwood-flooring/
Still have questions? That's what we're here for.
Give us a call today. Better yet, stop by.
We can show you our complete line of hardwood, let you see and feel the difference between solid, engineered, and laminate hardwood, and help you make the right choice for your home.