When you decide to accent your home with a new rug, you have a lot of choices.
How big or how small?
Do you prefer bright colors or natural tones?
What type of fiber do you prefer?
Is eco-friendly important?
Stylish is a given. You want it to blend in with the rest of your decor, and showcase your individual personality.
For many homeowners looking for all that and more, they narrow their decision down to a sisal or jute rug. Natural rugs are growing in popularity because of all they have to offer. If you want green living, sisal or jute make good additions. They're affordable, stylish, and provide neutral, earth-tone fibers that match decor in any room.
But if you've settled on sisal or jute, and aren't sure which to select, we have a little advice for you. Either will make a great addition to any room, but each has its own list of pros and cons. Here's our advice on each.
What is sisal?
Sisal is harvested from the Agave plant. While it is native to Mexico, because of its popularity, it can be harvested from many different countries around the world. Tanzania is one of the leading exporters of the Agave plant, and its fibers are used to make a variety of products, including:
Twine
Rope
Macrame
Baskets
Mats
Even mattresses and handbags
And of course, it's a versatile fiber that can be used to create rugs.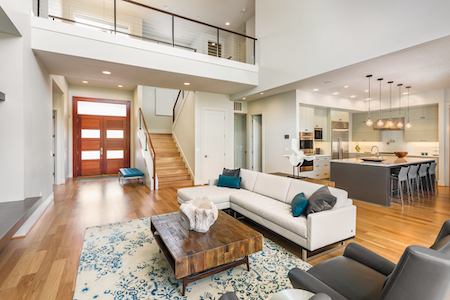 Sisal began making its way into homes in the 1980s, and the design trend has continued ever since. Part of its appeal is it can be used in a casual way in the places you spend a lot of time, or change out the decor, and it instantly takes on a more sophisticated feel.
Sisal is a stiff fiber that is spun into a yarn-like fiber. Alone it has a natural white hue that makes it perfect for dying any color. It is one of the strongest fibers available, which makes it an ideal choice for high traffic areas such as hallways or entryways.
Sisal can be used alone, or combined with other fibers such as wool, to create a stunning appearance that works on both visual and functional levels. You'll love the softness and durability if you move towards a sisal rug.
What is jute?
Jute is created from jute plants, with several different botanical varieties for different types of fiber. While cotton may be the most produced plant-based fiber, jute runs a close second. Jute creates a variety of everyday products, from burlap, bags, ropes, and canvas, to carpet, rugs, sweaters, and more. You'll find jute out in the open and on display as often as you'll find it in packing and agricultural uses.
If you want natural fibers, you'll never go wrong with jute.
Like sisal, jute entered homes back when moving towards natural, earth-friendly designs became fashionable. India is currently the largest producer of jute rugs, with Bangladesh being a close second. In addition to being multipurpose, perfect for many different rooms in your home, they are also completely biodegradable, making their entire lifespan eco-friendly.
While sisal creates a stiff fiber, jute is on the other end as one of the softest fibers. It has a natural brown hue that also takes well to being dyed, yet you'll find it just as often left in its natural shade. Although it's soft to the touch, it's still durable material. It looks great in a variety of places throughout your home, and can handle light traffic well.
Pros for using a sisal or jute rug in your home
As you learned more about both sisal and jute rugs, you may be gravitating towards one or the other. Here are some additional things to consider as you're finalizing your choice.
When it comes to placing a natural fiber rug in your home, both sisal and jute can't be beat. Sisal often in higher traffic areas, while jute makes a great addition to the lower traffic rooms in your home.
One of the biggest reasons people select sisal or jute is due to cost. Both are budget-friendly and give you the opportunity to change out your rugs on a frequent basis.
Because both sisal and jute are plant-based fibers, they are non-toxic and are a good choice if anyone in your home suffers from allergies or asthma.
Sisal and jute are both considered green products, which means they are earth-friendly from beginning to end. When you're through using your rug, they are biodegradable and will not live for an eternity in a landfill.
Because of their weaves, sisal and jute are both relatively low maintenance. Regular vacuuming is recommended to keep dirt away from the fibers. They are both considered to be natural dehumidifiers as each fiber is naturally absorbent. This can help keep your home cool on the hottest days of the year.
Cons for using a sisal or jute rug in your home
While sisal and jute have a wide array of advantages, because they are natural fibers, they also have a few disadvantages.
Because they are good at soaking up moisture, they don't make a good choice for bathrooms or laundry rooms. You should never wash or steam either rug because added moisture can make them prone to mildew or mold.
While the fibers are sturdy enough for both indoor and outdoor use, you should place them in covered areas when used outside. They should never be allowed to soak when there's rain in the forecast, or if your sprinkler system gets the flooring wet.
Neither sisal nor jute is known for its soft, cozy feel. If you combine sisal with another fiber such as wool, it will improve the softness.
Both sisal and jute have many similarities. When it comes to making your final decision, many often do so by looks. Consider your choices and lay them next to one another. Natural fiber rugs hold up well in many situations. So choose based on your preferences and what style will blend well with your personality. Whichever you choose, you'll love the effect.