"We moved into a home where the previous owners laid down self stick tiles in the kitchen and bathroom. I hate them and want to remove them and install something else. Is it difficult to remove self stick tiles? Can we lay other flooring materials over the top? What's the best way to get rid of this ugly look?"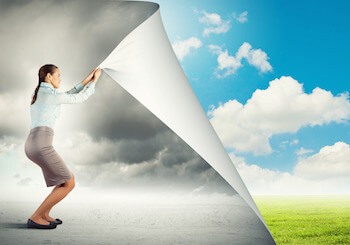 That's the thing about buying a new-to-you house. You get a great house with unlimited potential … as long as you're willing to put in a little work here and there. And when you hate the flooring in certain rooms in your home, its an easy fix to make.
Self stick tiles are often installed because they are easy to do. As a DIYer, its easy to make a quick change anywhere by laying them end to end across the floor. Yet if they aren't well taken care of, they can begin to show wear and tear almost immediately. Not a look you want your kitchen or bathroom to have.
When self stick tiles are laid into place, the bonding agent on the back adheres to the floor. If they were laid directly on the subfloor, the sticky residue will reside on the subfloor. The only way to remove it is with a little work. For a large tile area, you can rent a stripper machine that uses a steel blade to shear the tile from the floor. For smaller areas, a long handled floor scraper comes in handy to lift the tile away from the floor. And when you get into the really tough spots where tiles won't come up, nothing works better than a heat gun and a putty knife to pry it off the floor.
Yes, removing tiles takes work. Which usually leads to people asking the next most popular question we hear … can you lay new flooring over old self stick tiles? While you can find many sites online that will tell you how to do it, keep one thing in mind.
What is the current condition of your flooring? If you have peeling edges, a floor that is coming up or bubbling in certain areas, remember this will be the base for whatever new flooring you choose to lay into place. If you pull off the old layers and bring it down to the subfloor, you can create a subfloor in perfect condition for the new flooring you lay. If you lay over currently laid self stick tiles, you'll be dealing with existing problems that may either be visible or not to the eye. Self stick floors may be peeling and in disrepair because of years of use … or it may be from problems with the subfloor. Without taking it down to the subfloor, you won't know.
Is removing self stick tiles extra work? Yes. But to give your new flooring the longevity it deserves, and the peace of mind you'll have from knowing it's installed correctly the first time, it's worth the effort.