Your flooring sets the scene for how well your home functions. It can instantly portray your lifestyle, blend flawlessly into your décor, even give your family more time and freedom to do the things they truly like to do.
With that much riding on it, its no wonder making changes to your flooring is a big decision.
Ideally, its important to consider flooring choices for your entire home at one time. Its good to have a seamless flow from room to room. Many decorators will tell you a good rule of thumb is when you are standing in any one place in your home, its best not to see more than three different flooring materials in your view. More than three is simply too busy; less is always better to keep the flow. And if you do change, make sure you keep your choices cohesive, blending well and making sense as they change from room to room.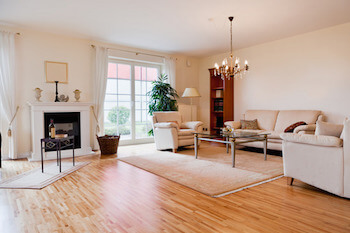 When most people are ready for a change, it usually stems old fashioned flooring that doesn't meet today's standards. The linoleum is looking a little tired. Or maybe you're tired of scrubbing grout lines or carpet stains. If either sounds like you, hardwood flooring may be the right choice.
While a lot is written about the durability of hardwoods, overall hardwood flooring has stood the test of time. Its easy to clean, comes in a wide array of colors and finishes, and can provide the strength and performance you are looking for in every room in your home.
Whether you have an older home with a small layout, or a wide open main level with rooms that flow, continuing hardwoods throughout the living space will create a continuous flow and make your home feel larger.
Because hardwood is ever-popular, there really is a look and feel for you. Lighter palettes have a way of opening up your home: try hickory, maple, oak, or bamboo in a natural or whitewashed shade. Darker shades can add depth and glamor to a room, but keep in mind the darker the shade, the more maintenance it will require.
If you have an active family, you may be worried about how a hardwood floor will hold up over time. A new trend is distressed and hand-scraped wood. Each plank is hand scraped and shaped one at a time. No two planks are ever alike, giving the overall look uniqueness and character.
If you love the look of hardwood but aren't sure about the durability, you can even create a wood-look with one of many products on the market today. Try tile. Or engineered wood. Or even luxury vinyl can provide the hardwood look without the maintenance of real hardwood flooring.
And if hardwood simply isn't your thing, don't worry, there are hundreds of choices available to suit your every need.
Want to know what the right choice is for you? The best place to start is by stopping by and taking in a few of the selections. You'll quickly start to discover your likes and dislikes, and begin focusing in on the perfect choice for your home. Stop by today and let us show you the best flooring for you.