Nothing says the holidays more than bringing a real pine tree into your home at Christmas time. The wonderful fragrance fills your home with the scent of the holidays. But watering them can create many problems for your wood floor should you accidentally spill.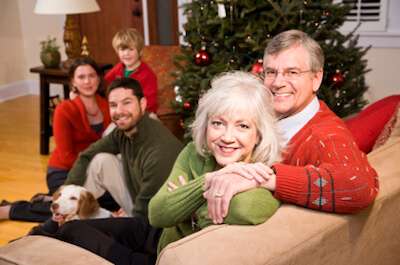 Trees are often low to the ground. Add in bulky tree skirts and presents in the way, and watering can easily be one of the trickiest tasks you'll complete every few days. Unattended water on hardwood flooring simply doesn't mix. It can cause wood to swell, cup and stain.
And while buffing and recoating your hardwood floors should be a part of your long term maintenance strategy, it isn't something you want to accomplish on a regular basis. Add in the fact that standing water can also penetrate between hardwood planks, causing even further damage underneath such as mold and mildew.
So what should you do before you bring the tree into the house?
Be sure you can see under and around the tree stand when you water. Be careful to watch while you pour, noticing any spills and cleaning them up immediately.
It's best not to place anything under your tree stand. Water can be trapped underneath anything you lay down, including materials, plastics or even newspaper. Most of these materials act as a sponge, holding in the water and wrecking havoc on the wood. It can trap water underneath and leave it there for as long as your tree stands. It can even create interesting patterns on your hardwood floors.
At some garden centers, you can purchase a large plastic garden container tray that you can place your tree stand into. As long as water doesn't get on the outside of this, it can capture all of the spills and prevent them from touching your floors.
What questions do you have about keeping your flooring looking great throughout the holiday season?