Remodeling and changing out the flooring in your home can be an overwhelming process. Where do you start? What materials should you choose?
And while your heart can quickly lead you in many different directions, your gut quickly tells you to be sensible in your choices. Choose materials that will take a certain level of wear and tear. Choose a material that you won't have to replace in a few short years.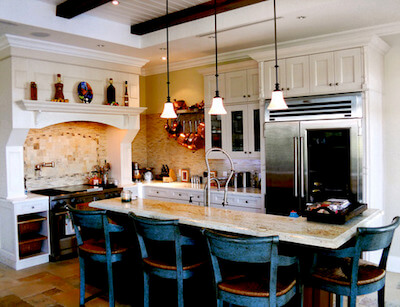 All of those thoughts can lead you to one of the most versatile materials available today: tile.
Tile is the perfect choice for virtually any room in your home. Not only does it provide a clean and elegant look, it's also durable and easy to maintain.
However, here in the Rocky Mountains, tile in every room may not be for everybody. Before you decide if it's the perfect choice for your room remodel, keep these pros and cons in mind.
The Pros Of Tiling Your Floors
Ask any real estate agent about what sells in today's homes and they will quickly point to items that can stand the test of time. Tiling has the same timeless appeal as do hardwoods, especially when classic earth tones are used that can be mixed and matched with any decorating style.
A growing trend is to install a radiant floor heating system, to have warm floors on those cold, winter mornings. Tiling is a perfect choice and its already increasing in demand.
Depending on the tile selected, its beauty will last for years with very little extra maintenance. Tiling requires little more than regular sweeping and dusting, other than wiping up spills as they occur. As long as tile is properly grouted, properly sealed and glazed, it will withstand any kind of living your family can give it.
Tile flooring is the perfect choice for homes with pets, as accidents can quickly be cleaned, and most tiling can withstand a dog's nails. They are also perfect for family members that may be prone to allergies. As long as non-toxic grout is used, tiling provides all natural materials that can leave a home chemically reduced.
The Cons Of Tiling Your Floors
While a popular choice for any room in your home, tiling may not be perfect in all cases.
Tiles can be cold in the dead of winter if not installed over radiant heating systems. And when the winter chill takes over your home on cold mornings, tiles can make it seem even colder.
Unlike carpet or cork flooring, tile has no insulation properties and is therefore one of the noisiest flooring choices you can lay. You can solve the problem by strategically laying area rugs and runners.
Not every tile is the perfect choice for a room. Glazed tiles are easy to maintain, but they are also more slippery when they get wet. This can be a big problem in heavy moisture areas, such as the kitchen or bathroom, or near entryways where rain and snow can come in. New innovations have made tiles with anti-slip surfaces to help solve the problem; be aware of what you are purchasing and that it matches your expectations.
Tile is also a very hard substance, meaning it can crack and break if heavy items are dropped on them.
To Tile Or Not To Tile?
Tiling is a smart choice for any home in Colorado, because of its timeless appeal and durable nature.
If you want an elegant look that will be both easy to care for and give you longevity for many years to come, tiles may be the perfect choice for any room in your home. And with today's tiling options, you can achieve just about any look you are going for. Stop by and see your options today.