We remodel for a variety of reasons. Maybe it's long overdue – it's time for an upgrade! Maybe you've saved and finally have enough to design your dream house.
Or maybe it's time to move. Your goal is to enhance your home's value, and get as much out of it as possible. According to a Coldwell Banker survey, 80 percent of homebuyers prefer a move-in ready home. Almost 7 in 10 would sacrifice home size to avoid updating.
That thought might be pushing you to remodel. But where do you begin? You'll quickly find that remodeling costs can add up quickly. And you're better off selecting high-quality improvements rather than skimping on inferior designs.
The materials and finishes you choose for your home play a significant role in determining its overall worth. One of the key elements in this equation is your flooring. Premium flooring materials can not only make your home more aesthetically pleasing but also boost its market value.
So where do you begin?
Best Premium Flooring Materials to Increase Home Value
Taste and style don't always work hand in hand. What works for one homeowner won't always work for another.
Yet flooring tends to follow trends, which makes the selection process easier than you think.
Solid Hardwood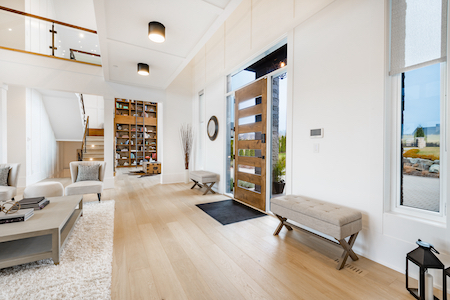 Solid hardwood flooring is a classic choice that never goes out of style. It exudes elegance and luxury, making it a top pick for homeowners looking to enhance their home's value. Solid hardwood is a fantastic choice:
Timeless Aesthetics – Solid hardwood floors have an enduring appeal that can suit a variety of interior design styles. Whether you prefer a rustic, traditional, or modern look, solid hardwood can complement any decor.
Durability – Properly maintained solid hardwood floors can last for generations, making them an excellent long-term investment.
Increased Resale Value – Homes with solid hardwood flooring tend to command higher resale prices in the real estate market.
While solid hardwood may be on the pricier side compared to other flooring options, its long-lasting beauty and value enhancement make it a worthwhile investment.
Engineered Hardwood
Engineered hardwood is another excellent choice for homeowners seeking premium flooring materials. It offers several advantages over solid hardwood:
Versatility – Engineered hardwood is designed to withstand moisture and temperature fluctuations, making it suitable for installation in areas where solid hardwood might not be recommended, such as basements.
Stability – Due to its layered construction, engineered hardwood is less prone to warping and shrinking than solid hardwood.
Aesthetic Appeal – Engineered hardwood comes in a wide range of wood species and finishes, allowing you to achieve the look of solid hardwood without the associated cost.
Engineered hardwood strikes a balance between the elegance of solid hardwood and practicality, making it a popular choice for those looking to increase their home's value without compromising durability.
Waterproof Flooring
Waterproof flooring materials, such as luxury vinyl planks (LVP) or tiles, have gained popularity in recent years due to their exceptional durability and resistance to moisture. Here's why they're a valuable addition to your home:
Moisture Resistance – Waterproof flooring can withstand spills, humidity, and even flooding without damage, making it ideal for kitchens, bathrooms, and basements.
Easy Maintenance – Cleaning and maintaining waterproof flooring is a breeze, requiring minimal effort and expense.
Wide Range of Styles – You can find waterproof flooring options that mimic the look of hardwood, stone, or tile, providing you with a vast array of design possibilities.
Investing in waterproof flooring can increase the overall value of your home, as it appeals to buyers who prioritize functionality and aesthetics.
Laminate Flooring
Laminate flooring is an affordable yet stylish choice that can elevate the look of your home. Consider laminate flooring for value enhancement:
Affordability – Laminate flooring is budget-friendly, making it a cost-effective way to upgrade your home's flooring.
Ease of Installation – Many laminate flooring options feature click-and-lock installation systems, making it a suitable choice for DIY enthusiasts.
Design Versatility – Laminate comes in a wide variety of designs, from wood grain to stone patterns, allowing you to achieve the look you desire.
While laminate may not have the same prestige as solid hardwood or engineered hardwood, it can still significantly improve your home's appearance and value, especially when replacing worn out flooring.
Tile
Tile flooring, whether ceramic, porcelain, or stone, is a timeless choice that can add both elegance and durability to your home. It's often considered a premium flooring option:
Durability – Tile is exceptionally resistant to wear and tear, making it a long-lasting flooring choice.
Variety of Styles – You can find tiles in various colors, sizes, and patterns, enabling you to create unique designs and layouts for different rooms.
Easy Maintenance – Tiles are easy to clean and are resistant to stains and water damage.
Tile flooring can be particularly appealing in kitchens and bathrooms, where water resistance and durability are essential considerations. Its durability and aesthetic versatility can contribute to a higher home value.
Tips for Creating a Visually Appealing Environment
Choosing the right premium flooring materials is only one part of enhancing your home's value. How you utilize these materials within your home can make a significant difference in creating a visually appealing environment that potential buyers or appraisers will notice.
Keep Your Floors Complementary and Consistent
Consistency in flooring throughout your home creates a sense of flow and cohesion. While it's perfectly fine to use different premium flooring materials in various areas, ensure they complement each other in color and style. This helps create a harmonious overall look that appeals to prospective buyers.
For instance, if you opt for solid hardwood in your living space, consider using tile or stone with a similar color in adjacent spaces like the bathroom or hallway. This continuity can make your home feel more spacious and well-designed.
Make the Most of Every Room
Each room in your home serves a unique purpose, and your choice of premium flooring should reflect that. Here's how to make the most of different spaces:
Living Room – Use elegant and inviting flooring like solid hardwood or engineered hardwood to create a warm and welcoming atmosphere.
Kitchen – Opt for durable and easy-to-clean materials such as tile or waterproof flooring to handle spills and high traffic.
Bathroom – Choose moisture-resistant materials like tile or waterproof flooring to ensure longevity and prevent water damage.
Bedroom – Consider softer options like carpet or area rugs to add warmth and comfort underfoot.
Basement – Waterproof flooring is a must in basements to guard against potential moisture issues.
By tailoring your flooring choices to each room's function and requirements, you can maximize your home's visual appeal and functionality.
Quality Wins Every Time
When it comes to premium flooring, quality should be your top priority. Investing in high-quality materials, proper installation, and regular maintenance will ensure that your flooring not only looks good but also stands the test of time. Quality is a key selling point for potential buyers and appraisers alike.
Premium flooring materials that are well-maintained are less likely to show signs of wear and tear, which can negatively impact your home's value. Regular cleaning and maintenance routines can go a long way in preserving the beauty and integrity of your floors.
Whether you choose the timeless elegance of solid hardwood, or the affordability of laminate, your choice of flooring materials can significantly impact your home's overall worth. Pairing premium materials with thoughtful design choices and a commitment to quality will ensure that your home looks beautiful and commands a higher price when it's time to sell.
Take the first step towards enhancing your home's value by upgrading your flooring, and you'll be on your way to a more valuable and aesthetically pleasing living space.
How can we help?