Thinking of remodeling your home? One of the best places to start is with new flooring.
If the thought of selecting a new floor has you a little overwhelmed, we have advice on how to pick the right flooring for every room in your home.
There isn't a one-size-fits-all flooring choice made to work in every home. That's why there are so many choices available to you. It depends on a variety of things: your preferences, your budget, and your lifestyle.
Where should you begin before you finalize your selection? How can you ensure you fall in love with your flooring from the moment it's laid into place?
Consider your lifestyle
It's easy to fall in love with a look when you watch your favorite home improvement show, or create a dreamboard while surfing online. But in reality, if the flooring that catches your eye doesn't work with your lifestyle, you'll have buyer's remorse almost from the moment it's installed.
The best place to start when you're considering new flooring is to ask yourself a few questions first.
Where will I be installing the new flooring?
What activities take place in each room?
Do I have pets?
How often do I want to clean the floor?
How often do I want to replace the flooring?
There isn't a right or wrong answer. Where homeowners run into trouble is by following their hearts instead of looking realistically at their lifestyles. Some flooring choices just aren't suitable for families with kids and pets. You'll be worried about the functionality, and constantly be cleaning up messes.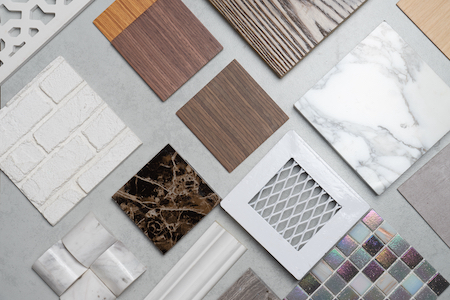 Likewise, if you have a room used by seniors where tripping may be a problem, focusing on smooth surfaces and shock absorption in case of a fall may be more appropriate as you finalize your choices. Hard natural stone would not be an appropriate choice.
Consider future value
This may be your forever home, but studies show that the average duration of homeownership is right at 13 years.
If you look at your flooring choice through the eyes of a home buyer, does your flooring choice make sense?
Here in Colorado, some flooring choices make more sense than others in different rooms in your home. While porcelain tile is often used throughout a home in warm climates, it can feel rather cold in our environment. Hardwood has remained at the top of homeowners' wish lists because it adds warmth to any room.
While you should remodel and install new furnishings to suit your lifestyle and needs, keeping an eye out for future value can help you make better choices with the flooring you install. A flooring choice may be more expensive, but if you know it can last for decades, and adds resale value too, it might be worth the stretch.
Select based on room function
Every room has different functionality and requires its own unique furnishings. Just like you'd never place a bed in the living room, placing the wrong flooring in a room will create problems from the beginning.
Kitchens should use flooring that allows for safety, cleaning, and high traffic as people cook and move about. Vinyl, tile, and laminate all make good choices.
Living spaces require comfort and style as you spend time there with family and friends. Hardwood is a popular choice, but it isn't the only one. Laminate, engineered hardwood, and luxury vinyl planks can all bring more functionality while imitating traditional hardwood at the same time. Carpet can bring warmth into the space, and remains ever-popular.
Bedrooms are a space for relaxing and snuggling in, especially during the long winters. Hardwood or laminate can give it an intimate appeal, while carpet adds warmth, especially for those cold mornings. Kids are likely to lay on the floor playing with their toys; carpet can provide added comfort.
Entryways and hallways are high traffic areas that need durable flooring options. Consider tile, which is easy to clean and maintain, and won't show track marks in a short period of time.
Bathrooms are high humidity areas. This is where resilient flooring works best. Whether you choose vinyl, tile, or luxury vinyl tiles or planks, water-resistance is key.
Let your personality guide you
If we had a dime for every time a homeowner comes into our showroom and says: "I want a bold color, but everyone around me says to stay neutral."
Neutral flooring is ever-popular when it comes to selecting flooring. Neutral flooring allows you to add pops of color with your wall color and home furnishings. Sometimes it makes sense to stay neutral; after all, it's one of the biggest investments when you remodel a room.
But that doesn't make "neutral" the best choice for everyone.
Only you can see your vision of a room. You have to live with it. If you want bold colors, let your personality guide you into the right flooring for you.
Stay consistent
It's tempting to want to change out different flooring options in every room in your home. With so many colors, styles, and options, why stick with the same? Yet that can create a chopped up appearance, and be an eyesore as you move through the space.
In general, designers follow the "Rule of three." The rule of three says that you should never use more than three types of flooring material throughout the home. This means you may use hardwood in your living space, carpet in the bedrooms, and tile in the bathrooms. All of it is in the same color hue, and blends well as your eye moves throughout your home.
Look at other items before you settle on a flooring choice, such as lighting, furniture placement, or even natural light from windows. It all can play into how flooring transitions throughout your home.
Longevity
Are you looking for a flooring that will last as long as you own your home? Or do you prefer remodeling every few years, and are more flexible in your design requirements?
Durability may not be a factor if you know you'll replace it in a few years. You might get more creative with your choices, knowing you'll replace it as you grow bored with the color or texture.
It can also help you stick within your budget. Would you rather spend more upfront, knowing it'll last for years? Or do you want an inexpensive flooring option, knowing you'll replace it sooner rather than later?
What's the right flooring for your space? 
There isn't a perfect choice for everyone. When it comes time to pick the right flooring for your home, let your personality be your guide.
With so many options available to you, whatever you choose will be a beautiful addition to your home, one that allows your own unique personality to shine.
How can we help you make the right flooring choice for your home?