Will you be taking on a home renovation project this year? Are you looking to freshen up the bathroom and making it look brand new?
We always recommend to start from the bottom up. You'll be surprised at how a simple project like tiling your floors can change everything. Of course, you don't have to end there. Tile is the right material for a wide variety of areas in your bathroom. You can use it for:
Shower stalls
Walls
Backsplashes
Countertops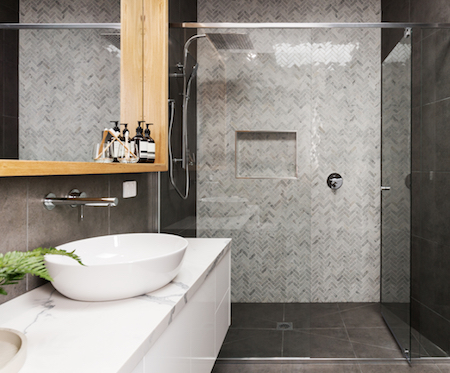 Tile isn't just for flooring anymore. It's one of the most versatile materials you'll find in the homebuilding industry.
But how do you know where to start? If you've ever walked into a showroom filled with tile, you know how overwhelming it can be. With hundreds of choices in every color, pattern, shape, and size you can imagine, how do you  know what will look right in your home? Where do you begin? Luckily, we've been helping homeowners just like you for years. Here's the basic plan we always share with our customers.
Start with your budget
Did we mention that tile comes in all sorts of shapes, sizes, colors, and patterns? And with all of those options, the price adjusts accordingly. Tile can be one of the most economical choices you can make for your bathroom project. But if you want something to "wow" your guests and visitors, you can find one-of-a-kind tiles that will do just that. Of course, you'll pay for it …
With all of this in mind, know that your first step in your remodeling project is to establish a budget for your tile. Ceramic tile is one of the most affordable. Step up to porcelain, and you'll increase your durability. What's the difference? Ceramic tile has the look and feel designed on the surface. With porcelain tile, the color and design run all the way through. Porcelain is also a water-resistant option, which makes it a perfect choice for every surface in your bathroom.
Choose a theme
With an almost endless supply of tiles on the marketplace, you can quickly get overwhelmed with possibility. That's why we suggest you create a plan before you even start looking. Of course, plans are meant to be broken. And you might find something completely different than what you came in looking for. But having a plan when you walk through the door helps you narrow down your options. It gives you a starting point.
Chances are you have a color or style already in mind. Do you prefer bright or subdued? Modern or country? Dark or light? Even with just these few ideas in mind, you can start narrowing your focus and selecting things right for your taste.
We also recommend heading over to Pinterest and starting a pinboard. Then have fun searching for the best home websites online. When you see a bathroom design you like, pin it to your pinboard. You'll start seeing trends almost immediately. Bring it in and share it with us. We'll be able to point you in the right direction.
Consider tile size
Tile is anything but standard anymore. You can choose mosaic tile barely an inch in diameter. Go with a classic subway tile that runs 4×16 in size. Or go big and bold – select a tile two-feet or more in width.
There isn't a wrong size when it comes to choosing a tile for your bathroom. Of course, you'll find a wealth of information online about sizing tile properly for a bathroom. We've even written about it here.
But the good news is when choosing tile for a bathroom, you're going to love it more if you let your personality shine through. If you want to stick to tradition, stay with a more standard size. To create a timeless look, select subway tile. If you want the latest trend, there are many choices for you.
Think big picture
The tile blends with the cabinets and the decor to create a bathroom you'll love for years. That's what our flooring consultants are here to do. When you come in, bring your ideas. We'll throw in a few of our own. Before long, you'll have a wide range of ideas to select from.
If you already have a color scheme in mind, bring in paint chips, towels, or even countertop selections to help you match and compliment. You'll see how different tones bring out different looks.
But don't rely on what you see in the store. When you finalize it down to a few selections, bring samples home. Live with them in your space for a few days. See the at night with the lights on. View them during the day with natural light splashing around. You might be surprised at what choice you gravitate to when you see them in your own home.
Don't stop with the floors
If you've spent any time visiting home improvement sites and saving your favorites to a pinboard, you know you can use tile just about anywhere. From the floor to the shower, to walls and behind sinks, tile can be used just about everywhere.
Especially in bathrooms where moisture and humidity can be hard on surface areas. If you select the right tile, just wipe it clean. And if it's installed correctly, it will protect you from water damage as the years go by.
Bathroom tile can be subtle, blending in with the surroundings. It can bring clean lines and give a spa-like vibe. Move into rich tones, and it can take center stage. Instead of being only functional, it can be more of an artistic expression.
What's your preference?
If you're remodeling your bathroom this year, let your creativity run wild. Tile is one of our favorite flooring choices for good reason: there's so much you can do with tile!
No matter if you have ideas in mind, or have no idea where to begin, your best course of action for choosing tile for your bathroom is to stop by and see our selection. We can give you ideas to think about, provide you with tools to start the planning process. And when you're ready to complete your project, we'll help ensure everything is done from beginning to end.
How can we help you choose the right tile for your bathroom?